Prologue:
As I prepared to leave for Ride the Rockies this year, I struggled with what to call it.  Was it a vacation?  Most vacations involve fun – and this would involve hours of discomfort, aching muscles, saddle sores, and waking up every day around 5:15 a.m..  Calling it a "bike ride" did not seem to communicate the enormity of this trip – 471 miles, 6 days, and over 30,000 feet of elevation climbed.  But whatever it was, it was going to be epic – it was one of the hardest courses in this ride's 29-year history.
I did this ride four times from 1993-1996, creating some of my most cherished memories.  On a wall of my office hangs the framed posters from those four rides that  always brought mixed emotions.  The first emotions were a sense of joy and accomplishment which were quickly eclipsed with the sadness and regret that I would never do this ride again.  Over the years, I had gained 60 pounds and the thought of participating in such a ride seemed as realistic as becoming an astronaut.  After nearly twenty years of slowly and steadily gaining weight, it just didn't seem realistic that I could lose it quickly.
I was wrong.  Over the past 18 months, I lost all 60 lbs that I had gained and and became a strong rider again.  Last year as I was on a 50-mile ride with my neighbor Jeff, it occurred to me that I may be able to do Ride the Rockies again and that simple thought filled me with hope.  I brought it up with Christina and she was enormously supportive – she was even okay with me buying a new bicycle.  In February I applied for the lottery to get in with my friend Christopher Butcher, and on March 7th, we got the notice that our lottery application was accepted.  I was headed back to Colorado for the first time in eighteen years!
I stepped up my training, headed out to Shenandoah National Park multiple times to head up Skyline Drive where the first 20 miles are straight up with a 6.5% grade.  I trained six days a week, every week, to prepare for this ride.  Thanks to the invaluable advice from my friend David Kemp, I was able to really train smart.
I flew out four days early to help acclimate to the altitude.  I stayed with my friends Ann Cairns and Larry Bangs in Broomfield, just outside of Boulder.  I got in some running, cycling, and drank a lot of fluids.
The Ride
Day -1.  While the ride started on Sunday, June 7, registration was Saturday, June 6.  Standing in line to register, everyone was talking about the first two days with palpable apprehension which greatly assuaged the inner-terror I had been harboring for months.  It wasn't just me – this was an epic course.  After registering, I found a spot in the "indoor camping" ground (a high school gym floor) for my friend Christopher and me, and set out to get my bike inspected one last time by one of the on-site mechanics.  Christopher and I eventually connected and had a great time in Boulder that evening, but returned early so we could get a good night's sleep.
Day 1, June 8 (Sunday)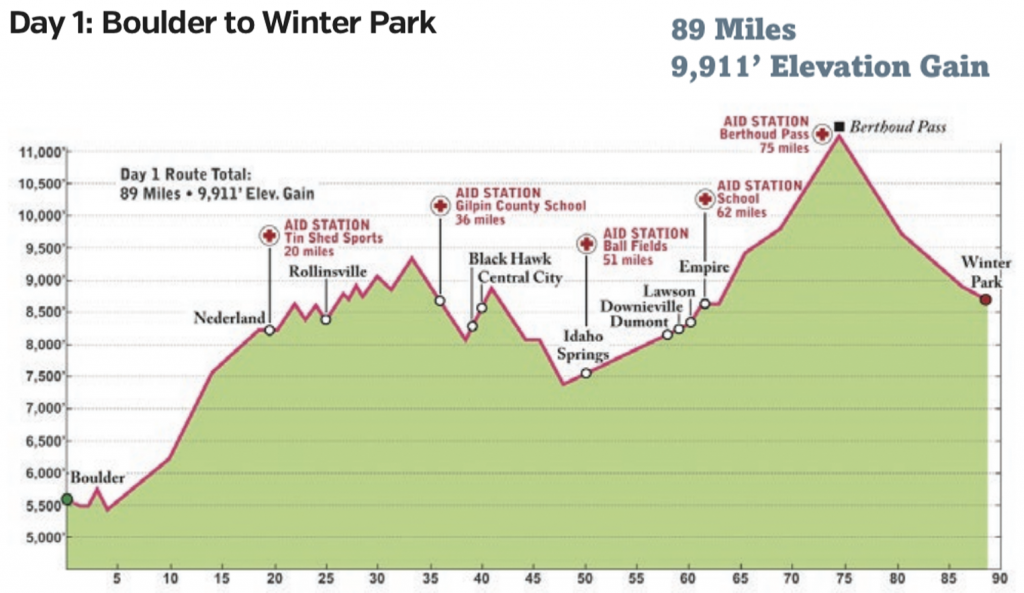 Because this was an 89-mile day with 10,000 feet of climbing, Christopher and I set out at 5:40 a.m. on our bikes.  We wound through some neighborhood streets and there were police at every major intersection giving us the right-of-way.  It was surprising how many people started this early.  Soon after we left the neighborhoods, we started the 20 mile climb straight up Boulder Canyon.  The sun started to crest and the rock walls seemed to glow in the warm light.  Everyone was going slowly, saving their legs for six days of extreme cycling.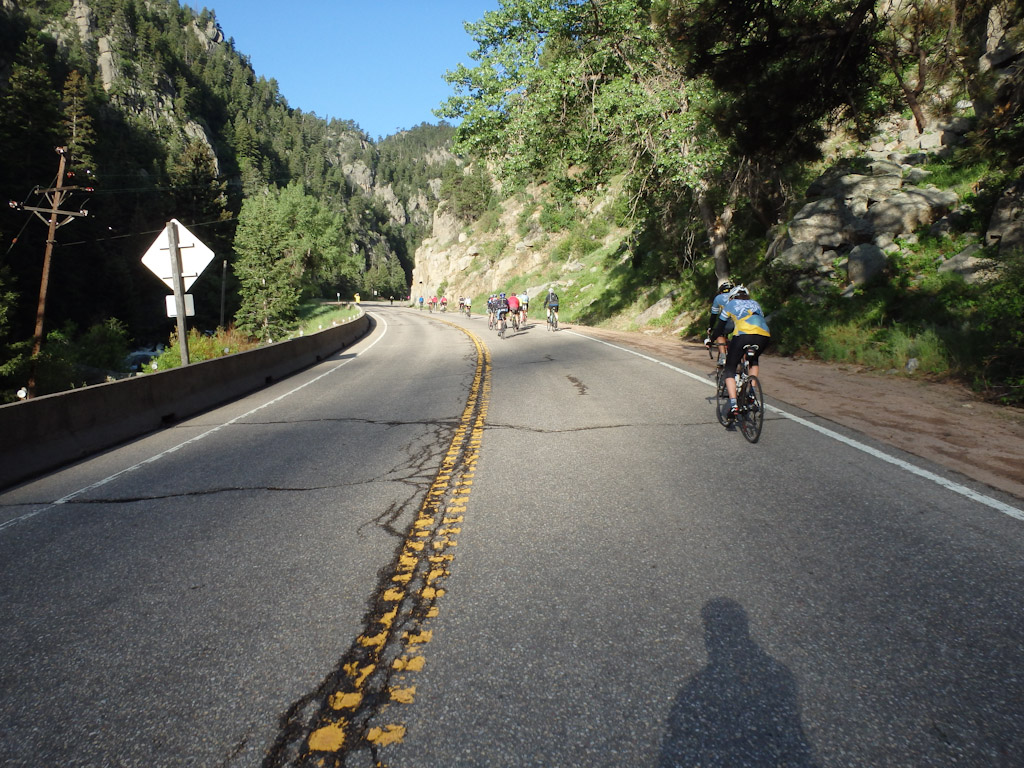 Near the top of Boulder Canyon was a beautiful lake with Nederland on the other side.  It was stunningly gorgeous and the site of Aid Station 1.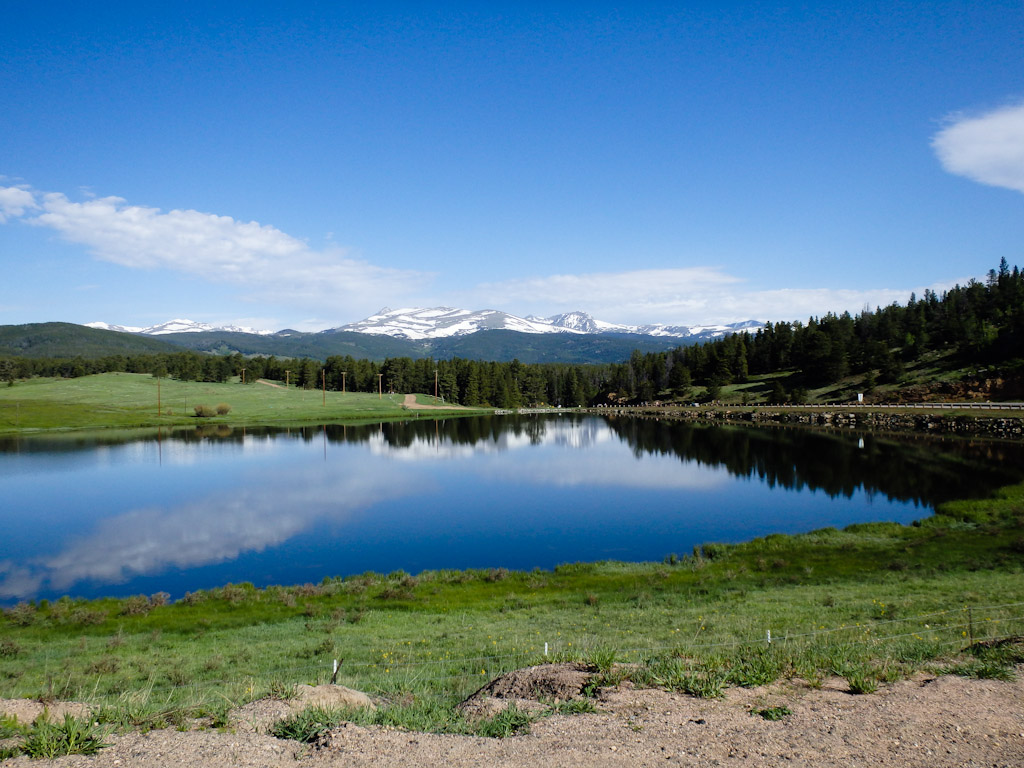 The next 15 miles were no easier – with a series of steep "rollers" as you can see on the route profile above.  We made it to Aid Station 2 and then hit Black Hawk.  Climbinging out of Black Hawk was brutal – it had a 14 percent grade and several cyclists were walking their bikes.  Christopher and I got separated as we had different climbing speeds.  It just seemed to never end. Giving moral encouragement were fans along the climb with cowbells cheering us along.
Finally, we crested the hill and it was all downhill to Idaho Springs but the weather started to change.  There was lightning, the sky darkened, and everyone started to pedal hard to beat the rain, but it was a futile effort.  Coasting down the steep hill into Idaho Springs, our faces were pelted by hail – each one felt like a needle piercing our skin.
At the bottom of the hill was a bridge with at least 100 cyclists seeking shelter.  My instincts told me to keep going so I rolled passed the huddled cyclists, quickly stopped at the next aid station to fill up my water bottles, and it was off for the 11-mile trek to Aid Station 3.  While 11 miles may not sound like much, it was all uphill into a blistering headwind.  I was averaging 5.5 MPH and passing nearly everyone.  After Aid Station 3 (at Empire, Colorado), I started the climb up Berthoud Pass.
The climb was steep and unrelenting.  At some point, the road started to switch back and forth and you could look over the guardrail at the road far below where you once traveled.
The riders thinned out and the temperature started to drop.  As I kept climbing, it started to rain, and the rain started to look snow-ish, which then turned into a full-blown snowstorm.  I was wearing cycling shorts, a shortsleeve baselayer top ("baselayer" is the 2014 way of saying "long underwear"), arm warmers (lycra sleeves for my arms), a shortsleeve cycling jersey, and a light rain jacket.  Brr.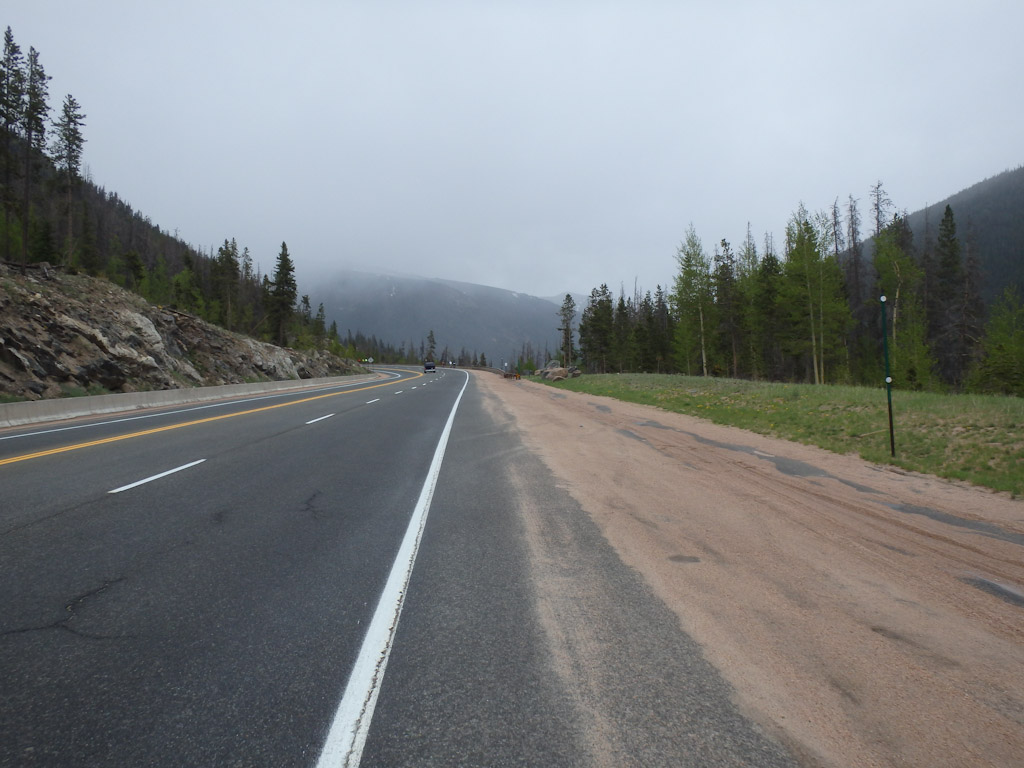 At one point I looked up and saw a giant "Z" of bricks on the side of the mountain but soon realized that this was not a "Z" but more switchbacks that got even steeper.  I wanted to stop for just for a minute to take a small break but was scared that if I stopped, I would be unable to get back on my bike so I just kept pedaling.  Helping provide motivation were quotes the RTR staff spray painted on the road for us. Berthoud pass had a strong Star Wars theme with things like, "Use the force Luke,"  "I sense a disturbance in the force," and "The force is strong with this one."
I gave up wiping my nose so it constantly dripped onto the top tube of my bike.  Like someone hitting the elevator button repeatedly, I kept trying to switch to a lower gear only to be reminded that there was nowhere to go.  My exposed fingers were numb, my face was numb, and I had no options but to just keep pedaling.  And in the middle of this misery, I started to cry.  But not out of sadness or despair.  I said to myself, "Holy shit.  I really am doing this.  I'm effn' doing this!"  And a force of emotion overtook me as I realized how far I had come from struggling to bend over to put on my socks 18 months ago to climbing one of the most grueling climbs in Colorado in a snowstorm.  All the struggle and all the effort over the past 18 months were encapsulated in this single moment –  I had climbed not just Berthoud Pass, but a mountain much greater that I will hold as a source of pride the rest of my life.  Suddenly, I became an unstoppable force and powered up the mountain the rest of the way.
I finally reached the top.  Few people were there and they weren't letting people down who didn't have full winter gear with them (i.e. they weren't letting many people down).  As I went to refuel at the Aid Station, a fellow rider looked at me and said, "Wow – you are bad ass!"  This is not a term people frequently use to describe me but at this moment, I think he was right.
While reaching the top of Berthoud Pass should be cause for celebration, it was hard to smile – it was a day of pure grit.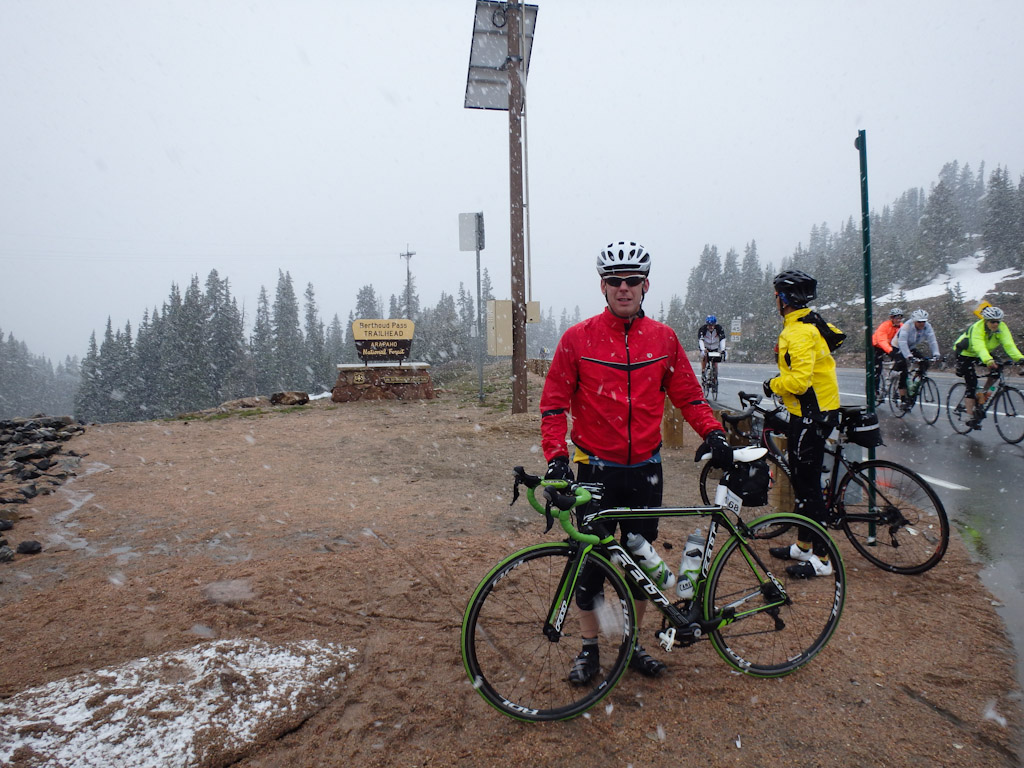 As more cyclists made it up the pass, they congregated in a small hut to warm up from a tough day of climbing in the snow.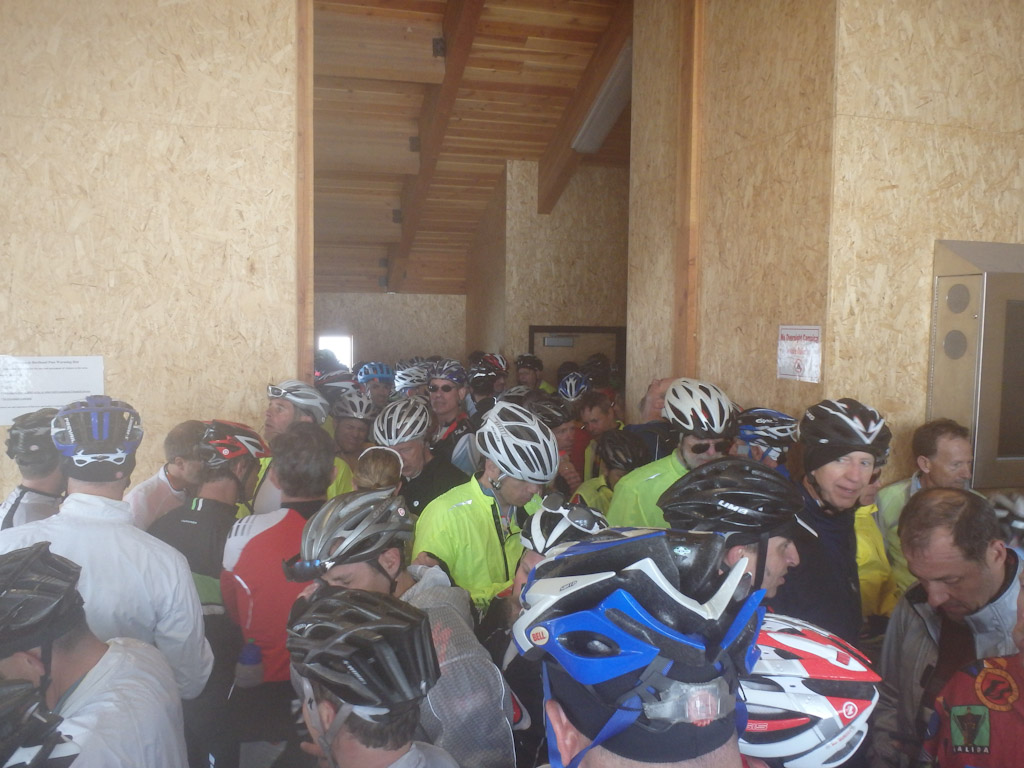 While milling around, I learned that they were stopping all cyclists at Aid Station 3 in Empire – so far less than half made it to the top.  The Denver post said that only 200 of us made it to the top, but that seems like a low number.  They brought up trucks to take our bicycles into Winter Park, and then started to bring up busses.  Grand County had declared a disaster and was sending up every available ambulance, fire truck, EMS vehicle, etc., to bring us down.  Wanting just to get off the mountain, I decided to hitchhike down.  As I stood there with my thumb out, an EMS person had me get into her Excursion where she drove me and several shivering cyclists to the Winter Park Rec Center.
Some days on the bike are full of joy and some days are character-building.  Day 1 fell squarely in the later category.
Day 2, June 9 (Monday)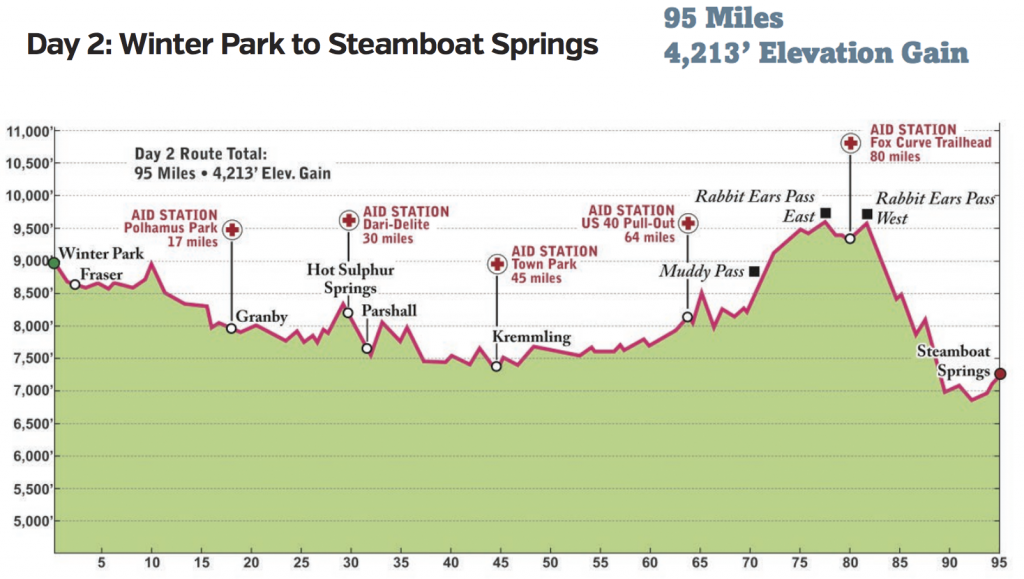 I started Day 2 discombobulated.  I usually get everything ready the night before so I can get dressed and on my bike as quickly as possible.  But Day 1 was such a disaster that I was completely unprepared for the morning.  I woke up late, didn't have my clothes ready, and seemed to take forever getting ready.  My friend Christopher could only ride Sunday and Tuesday so I was on my own for today.
That night the temperatures in Winter Park dipped to 17 degrees.  Early risers found their bikes frozen with wheels unable to turn.  People were brining their bikes in the rec center bathrooms to thaw them with hand dryers.   By the time I got up, my bike had a coat of ice but was workable.  I left at 8:00 and was one of the last to leave.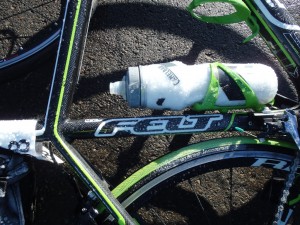 As I set out for this 95-mile day, The air was crisp and clean.  The first half of this day would have its ups and downs, but was mostly downhill.  We started on a bike path through a neighborhood and many girls and boys woke up early to cheer us on from their back yards.  After we got on some primary roads, I caught a few pace lines and by mile 40, I was averaging 19 MPH.  But then the second half the course was uphill, ending with Rabbit Ears Pass that had a strong headwind.  As we were near the top of the pass but depleted of energy, there were people with cowbells, cheering each and every cyclist on – this seemed to give everyone the extra strength they needed to power over the top.  While there were many people with cow bells, this one group of ladies followed the tour and they were the BEST part of the entire ride.  Here they are on top of Rabbit Ears Pass:
Once we made it over, it was all downhill into Steamboat Springs.  At the top of Rabbit Ears I was averaging 14 MPH but picked up 1 MPH on the crazy downhill so was able to average 15 MPH for the day.
I finished the day not feeling like I had done so well.  However, when I came back to bike security the next morning, I was astounded by how many more bikes were in bike security – I must have been in the first 10% to return – and I was one of the last 10% to leave – so clearly it wasn't that bad of a day.
Below are some photos for the day:
As I sat in Steamboat at the community event, eating a burger and listening to the band, a local reporter asked if he could talk to me.  The next day the Steamboat Today had a story largely about my journey:

http://www.steamboattoday.com/news/2014/jun/09/story-every-mile-ride-rockies/
Day 3, June 10 (Tuesday)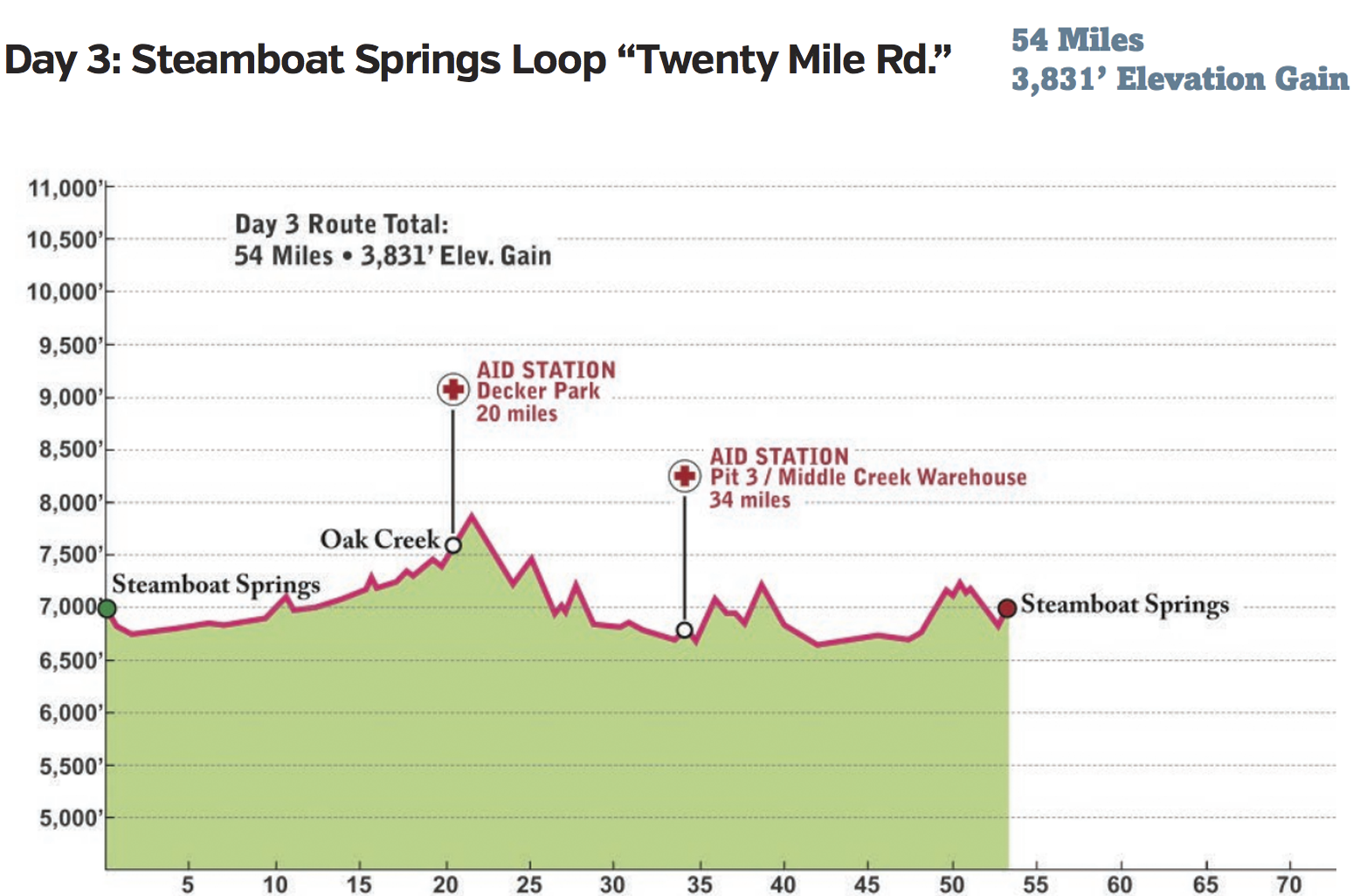 We were warned not to view Day 3's 55 mile ride that started and ended in Steamboat Springs as a recovery day.  But after the first two days, we all thought that this would be a relatively easy day.  Oh dear goodness were we wrong.
Christopher and I set out on the cool morning (45 degrees) and we could see hot air balloons off in the distance.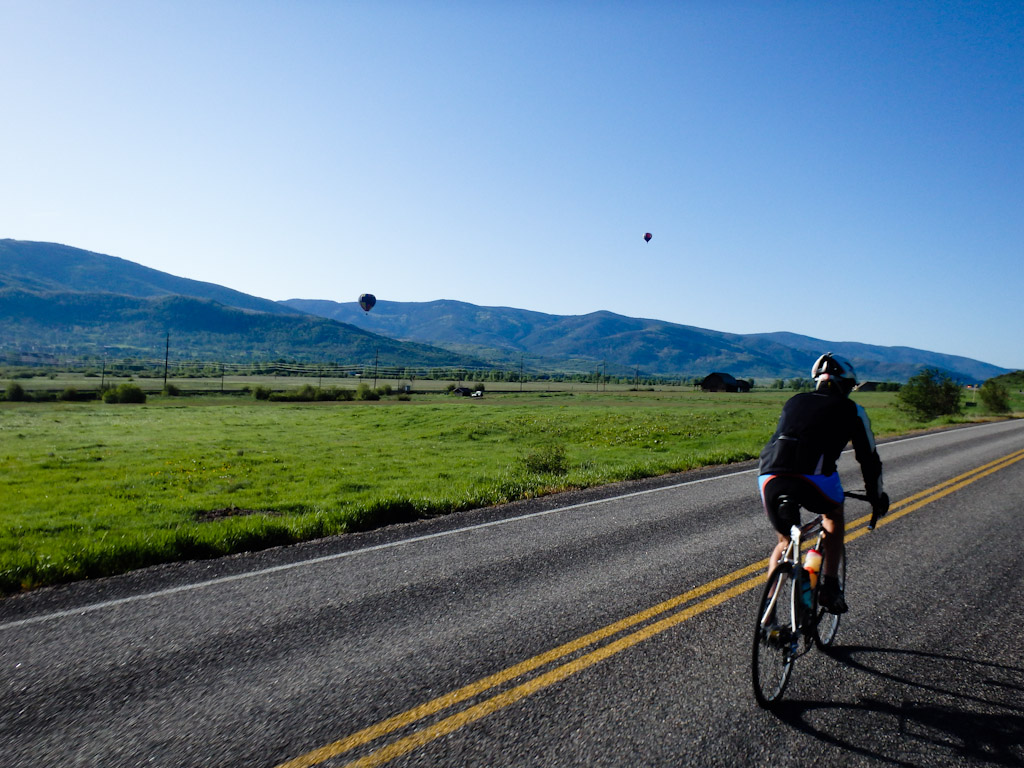 The first 20 miles were a steady climb but not overly difficult.  Christopher largely pulled me the whole way (i.e. he took the lead position for drafting).  After Aid Station 1, there was a pretty good climb and then a wonderful downhill – Christopher and I both hit 45 MPH.  We had two more climbs and two more downhills.  The cowbell ladies  were on one of the climbs singing "Take it Easy" out of tune while ringing their bells ("…don't let the sound of your own wheels drive you crazy…") – they were awesome!
After Aid Station 3, we then hit a climb that locals call "The Wall" – it is something like 1.5-2 miles of grades ranging between 9-15 degrees.  Christopher went ahead as I couldn't keep up.  We met at the top, rode the fun downhill, and then started the second dreadful climb.  After our legs were mostly shot, we welcomed the part between miles 40-47.  But it was not to last – there was a nasty final climb at the end that robbed all of our legs of any energy that was left in them.
Christopher and I went out for a great lunch, I stopped by Safeway to buy more cold medicine, and he was off back home.  Tomorrow was going to be another challenging day.
Day 4, June 11 (Wednesday)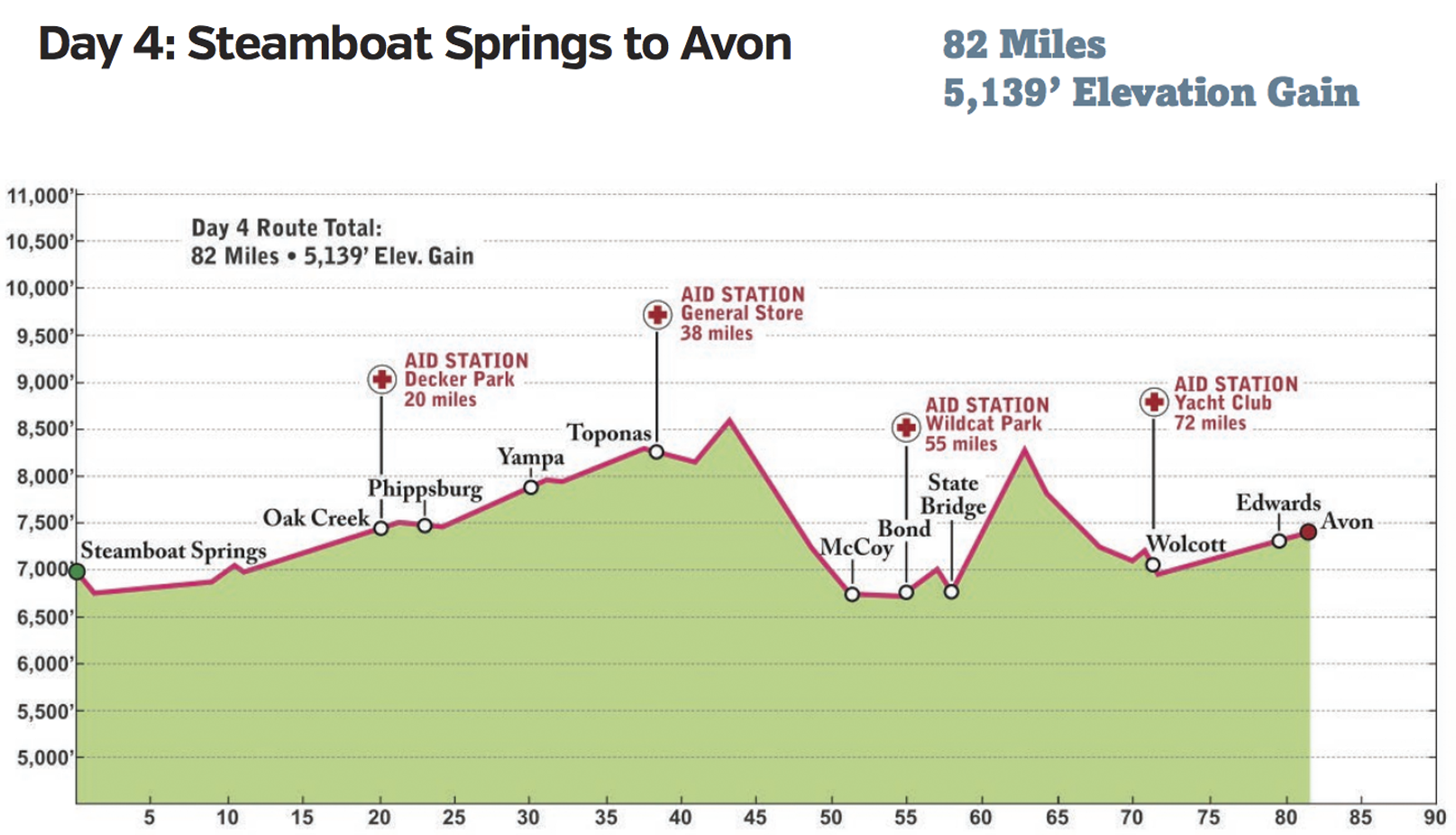 Day 4 started off chilly like all the other days.  I got an early start and headed out of Steamboat Springs.  They were predicting rain in the early afternoon at our destination (Avon) so I wanted to make good time.
The first 20 miles were the same route as the previous day's 55-mile loop which was good – it was stunningly beautiful. As the sun crested, my 4-person pace line's shadow reflected on a grassy hill.  We all slowed down for a bit just to look at our shadows – it was an awesome sight.  Below is a photo of me and the lead rider.
The scenery with the warm light made for some picturesque scenes.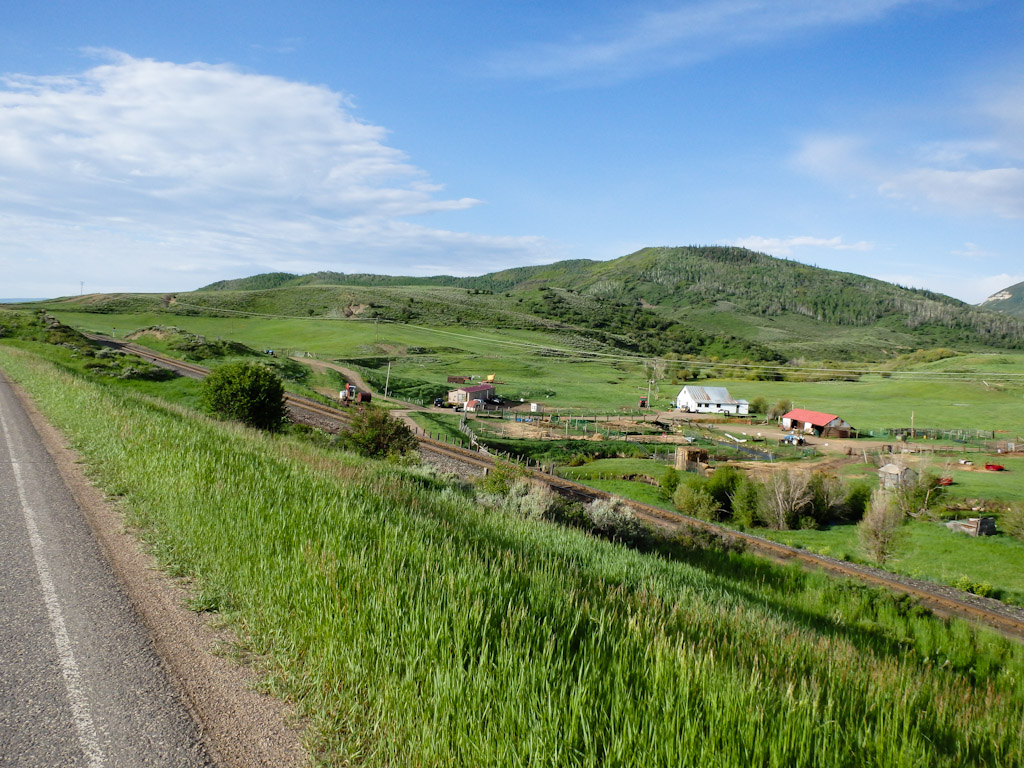 The first 43 miles were almost all uphill, but not terribly steep.  There were all different pace lines going different speeds so you could easily find different groups going your speed.
After Aid Station 2 (mile 39) things started to get steep.  Following the climb was a great downhill.  There was a sharp right at State Bridge, the site of RTR's first rider fatality.  There were ride marshals there with orange flags warning everyone to slow down.  After State Bridge started a second climb that was much more challenging.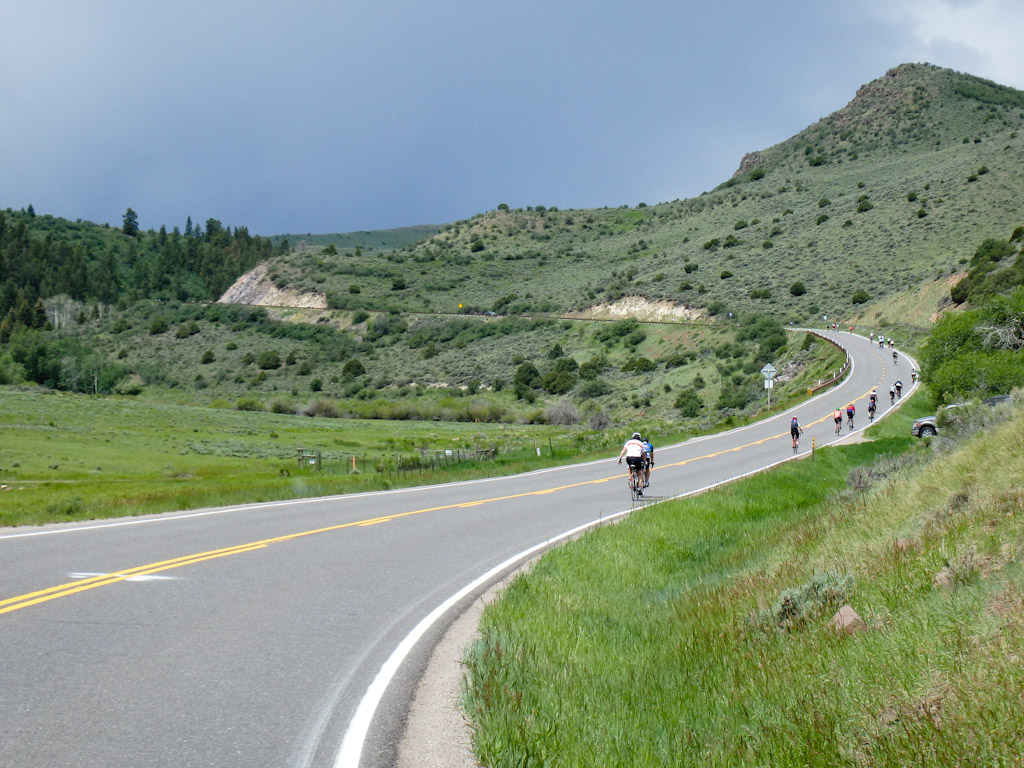 I climbed the second hill as a wind rushed down on us.  Near the top there were hundreds of  grazing sheep.  The following downhill was not initially enjoyable.  The same mean-spirited winds that pelted us going up were hitting us from the side.  I rode in middle of the lane grasping my handlebars with white knuckles  afraid of what may happen if a wind gust hit me the wrong way.  After dropping 500 feet, the weather got better and it was a fun ride into the next Aid Station.
From there I powered into Avon (next door to Vail) and was shocked when my bike was the 20th into bike security (of 2,000 riders) – I was incredibly happy.  In my 20s, I was routinely in the first 10-20 riders to finish but now in midlife, I felt like an elder professional winning a stage in the Tour de France.  Even having one exceptional day helped me feel great about my overall performance.
Below, leaning up against the fence to the right of the man is my green bike (as the day progressed, the tennis court would look like an endless field of bicycles).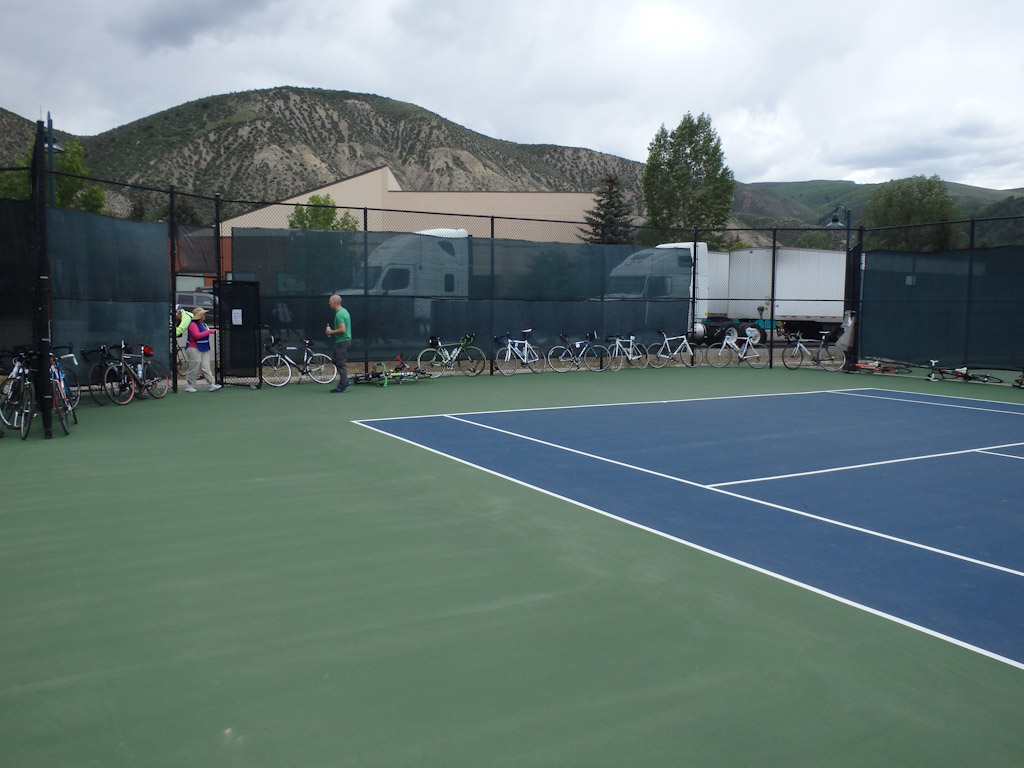 Day 5, June 12 (Thursday)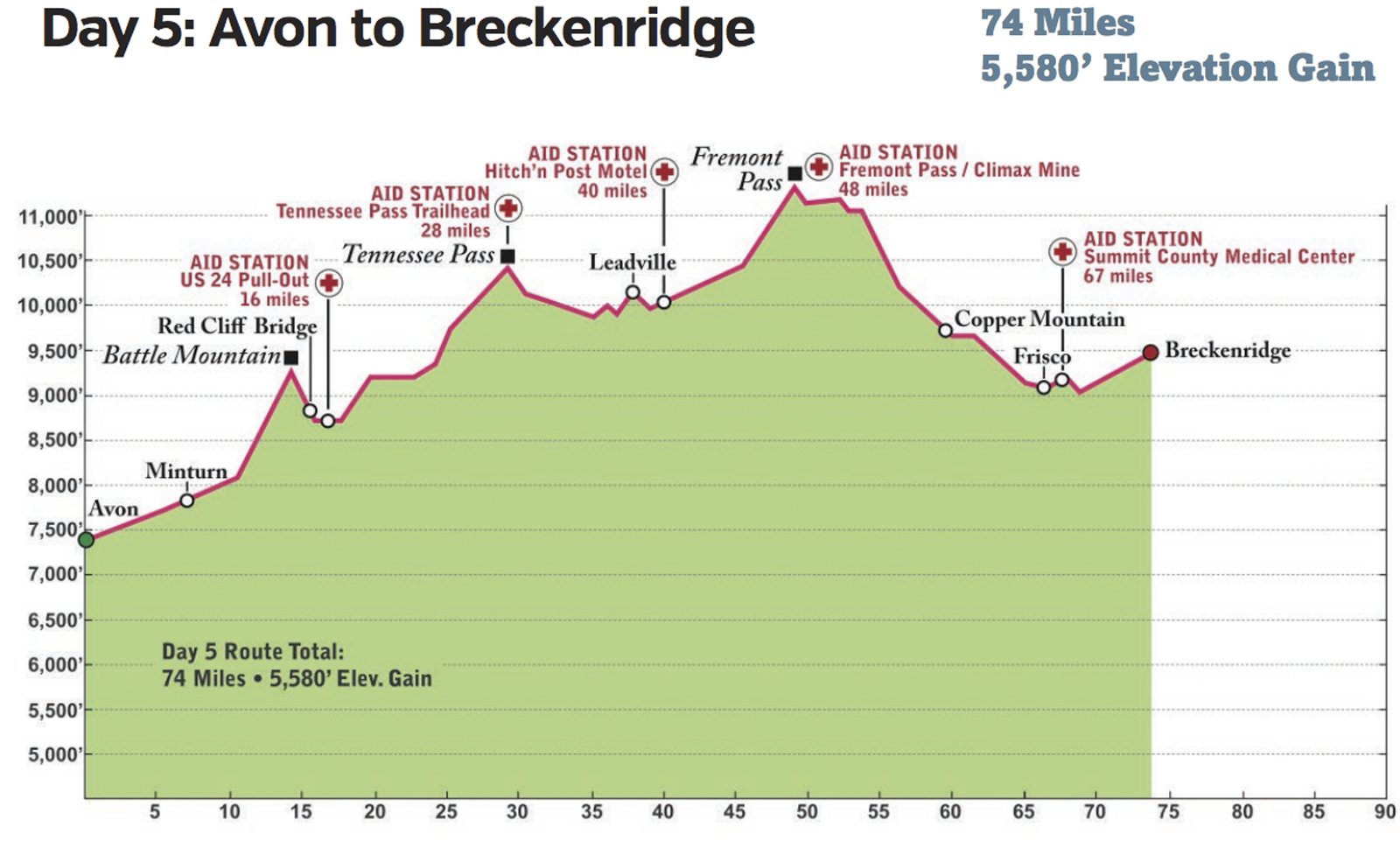 Still feeling sick, I was stoked coming off yesterday's finish.  However, this was going to be a tough day – the first 50 miles were nearly all uphill.
The first climb up battle mountain was unrelenting.  It was straight up, it was cold, and the sun was shining everywhere except on us.  After Aid Station 1 I went to tackle Tennessee Pass.  While this should not be that difficult of a pass, we had a significant (you guessed it) headwind.  Geeze!  Really?  Every climb has to have a headwind?  While there was only 12 miles between the two rest stops – I should have stopped to refuel and I should have had more water – I was borderline bonking by the top.  While the scenery was stunning – I was pretty grumpy.
As we climbed, the RTR staff gave Tennessee Pass a Star Trek theme.  About 1/3 the way up they spray painted, "Scotty, I need more power!" and about 2/3 up, they painted, "Captain, I'm giving her all I got," and at the very top they painted, "NC-1701 Captain's Log.  Mission Accomplished.  Kirk Out."
After Tennessee Pass, the grumpiness seemed to melt away and I was overtaken by the scenery.  Spray painted on the side of the road by an RTR staffer wrote something like, "See that right there on your right -that's Colorado!" and I had to take a photo (see below).  It was a stunning panoramic of a beautiful mountain range.  We were in a prairie with beautiful yellow flowers and majestic mountains off in the distance – how could you not be rapt?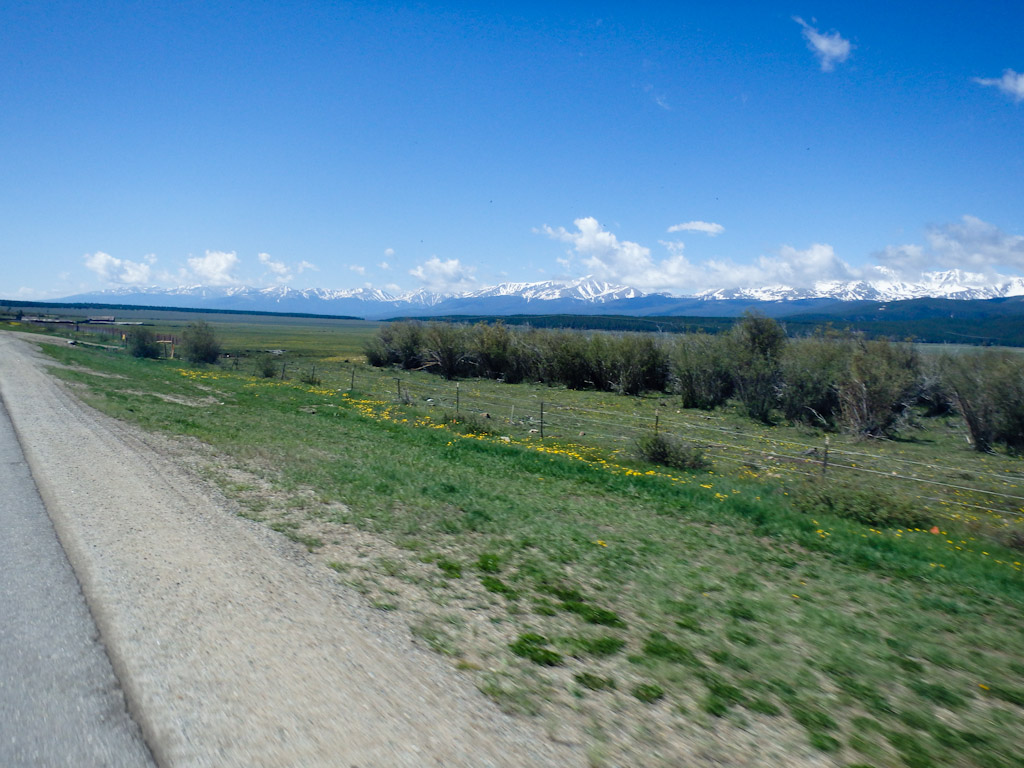 Here is the same view in a very short video from my bike:
The next big climb was Fremont Pass.  My brother Patrick had told me that is not that difficult so just enjoy it.  He was right – after Battle Mountain and Tennessee Pass, it seemed like we were already near the top.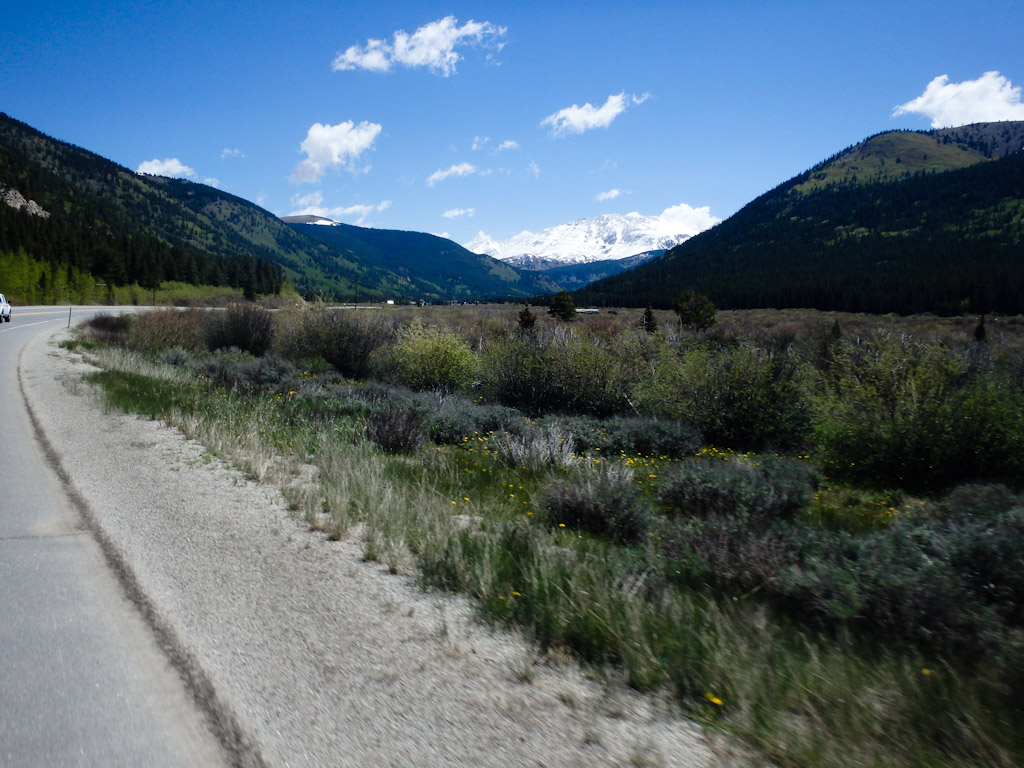 Climbing Fremont Pass is enormously rewarding as the snow-covered mountains just take your breath away.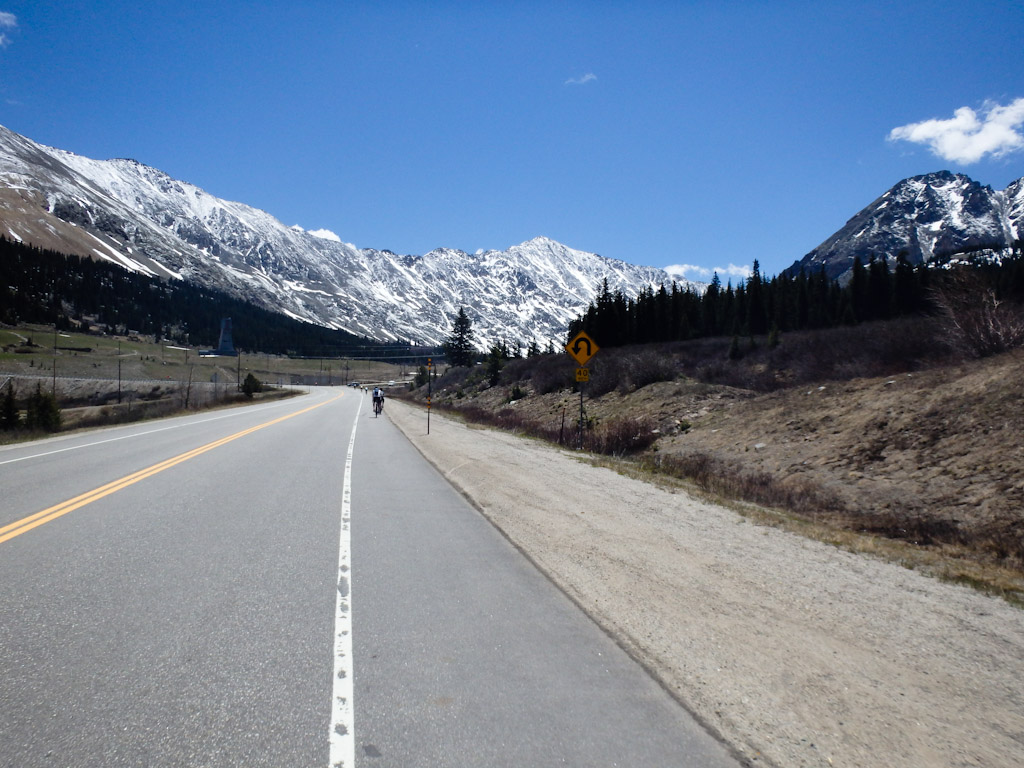 Here is what an Aid Station is like.  This one is on top of Fremont Pass:
This is perhaps my favorite photo of the ride – a pristine lake on top of Fremont Pass.  I was flying past it at a good speed when I saw a cyclist pulled over taking pictures.  I quickly realized that I was a dummy for passing it by so quickly stopped and took photos myself.  Then the other cyclist and I took each other's pictures in front of the lake.
The trip down Fremont Pass was great.  Below is my FAVORITE road sign in the world.  Most people were able to get into the upper 40s – I only heard of one person who beat my speed of 52.5 MPH that day.  My brother's record is 68 MPH on this pass.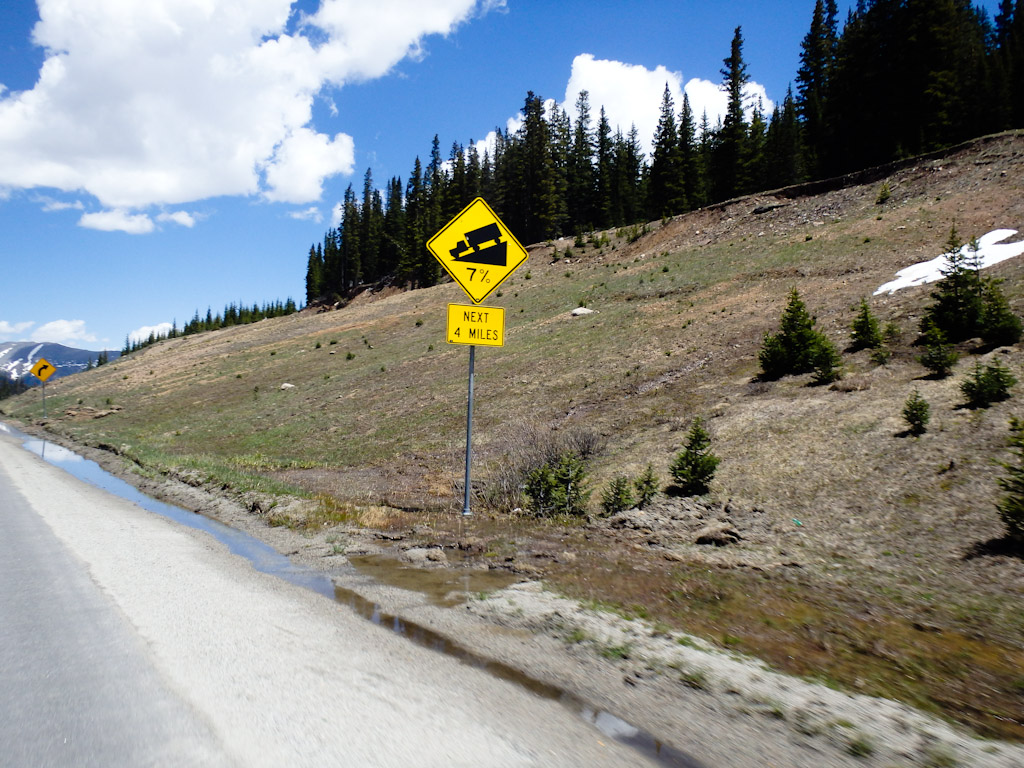 Once we got to the bottom of Fremont Pass, we took a picturesque bike trail from Copper Mountain to Breckenridge.  This steam was especially beautiful.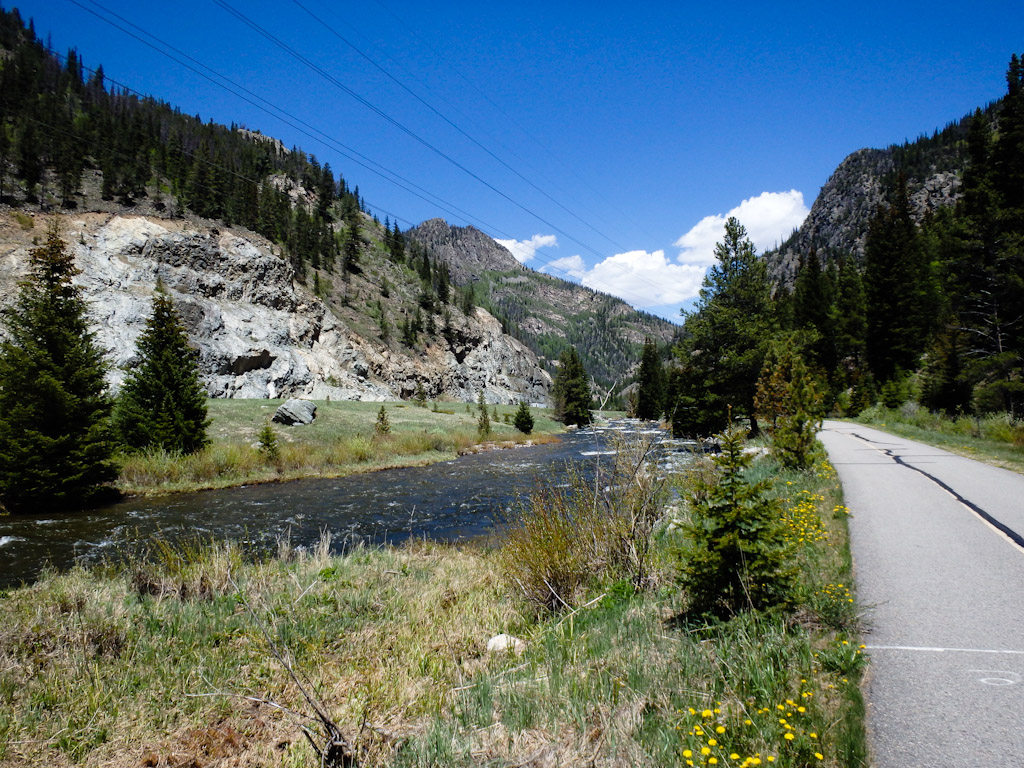 After I set up camp on the gym floor of the Breckenridge Rec Center's gym floor and got showered, I called my Uncle Rob who brought me back to his place with his wife Deborah.  Wow!  They have a postcard house on a mountain facing the Breckenridge ski slopes.  We caught up while sitting in his hot tub for an hour and eventually the soreness in my legs went away.  They prepared a wonderful home-cooked meal of salmon, pasta, and salad that was not only delicious, but was a great way to refuel.  I was now ready for the last day of Ride the Rockies.
Day 6, June 13 (Friday – and final day)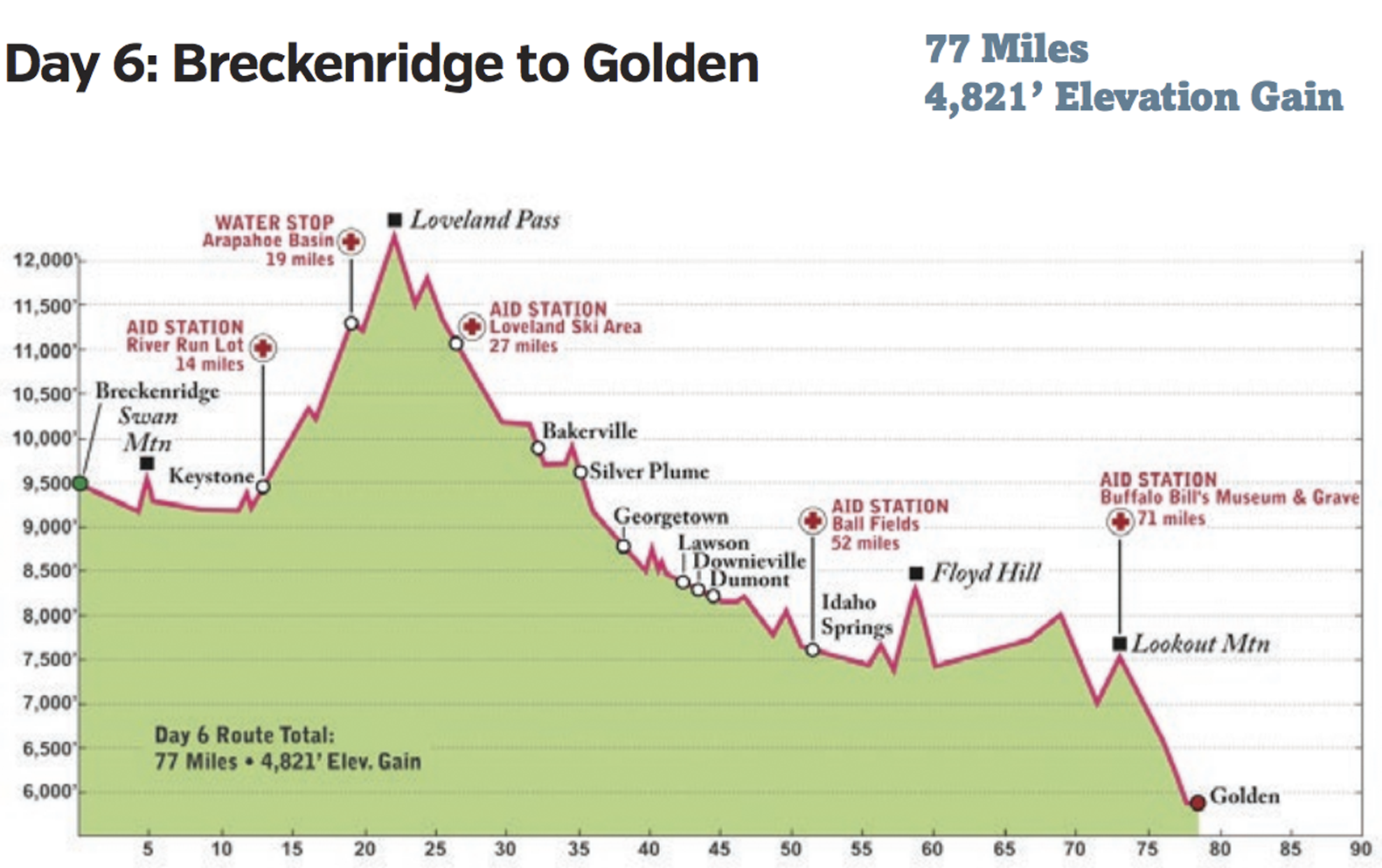 This was it – the last day.  There were times I was so sick I didn't think I would be able to complete it but here it was -the last day.  Over the week, I had acquired saddle sores that were so painful that the smallest shift could cause immense pain.  My legs were tired I didn't know where I would find the energy – but it was just a mere 77 more miles to the finish line.
I woke up late and was on the bike by 7:00.  The route started with a ride to Keystone, and then up Loveland Pass.  This is one of my favorite passes – it has a fairly even grade and boasts some of the most scenic views.  Although I started the day with trepidation, I started off strong and just kept getting stronger.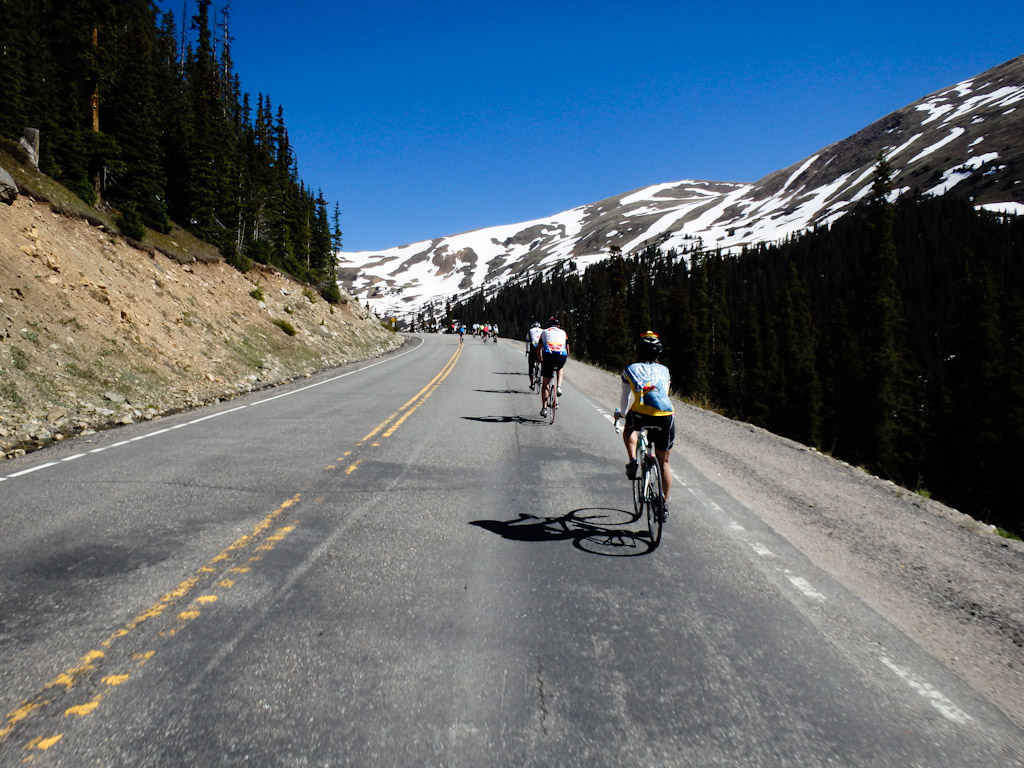 One thing I find comforting about Ride the Rockies with 2,000 riders is that there is always someone in front of you and there is always someone behind you.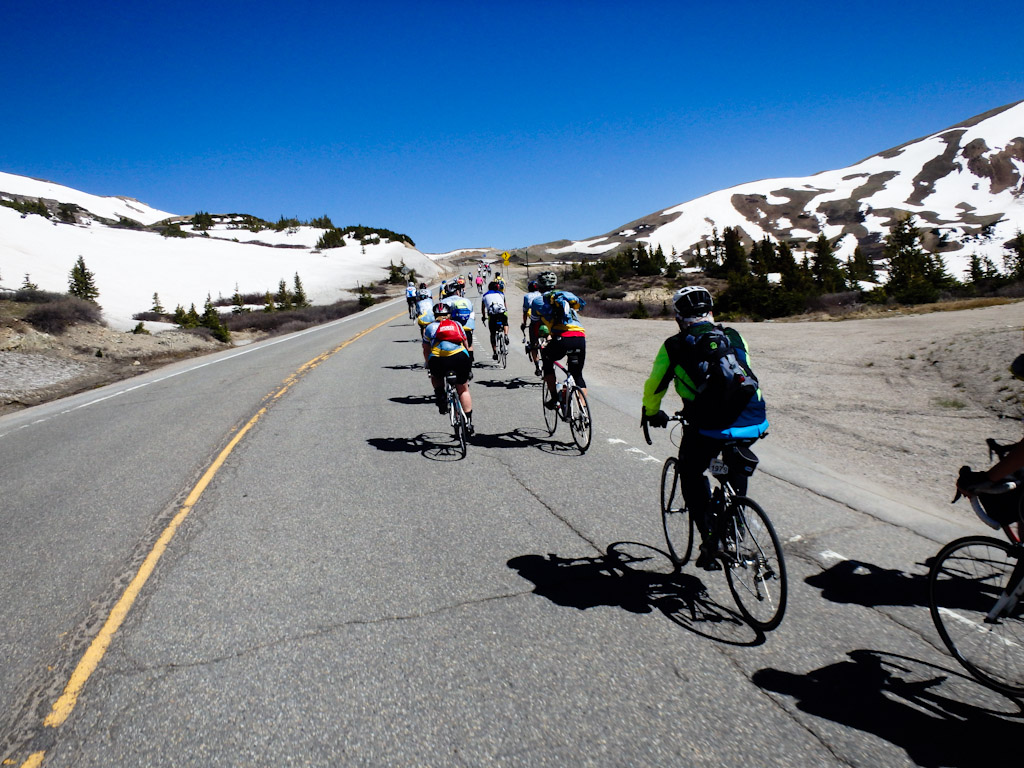 Here is a very short video to give an idea of what is like to climb Loveland Pass:
As we climbed, we could look far below to see others about to make the ascent.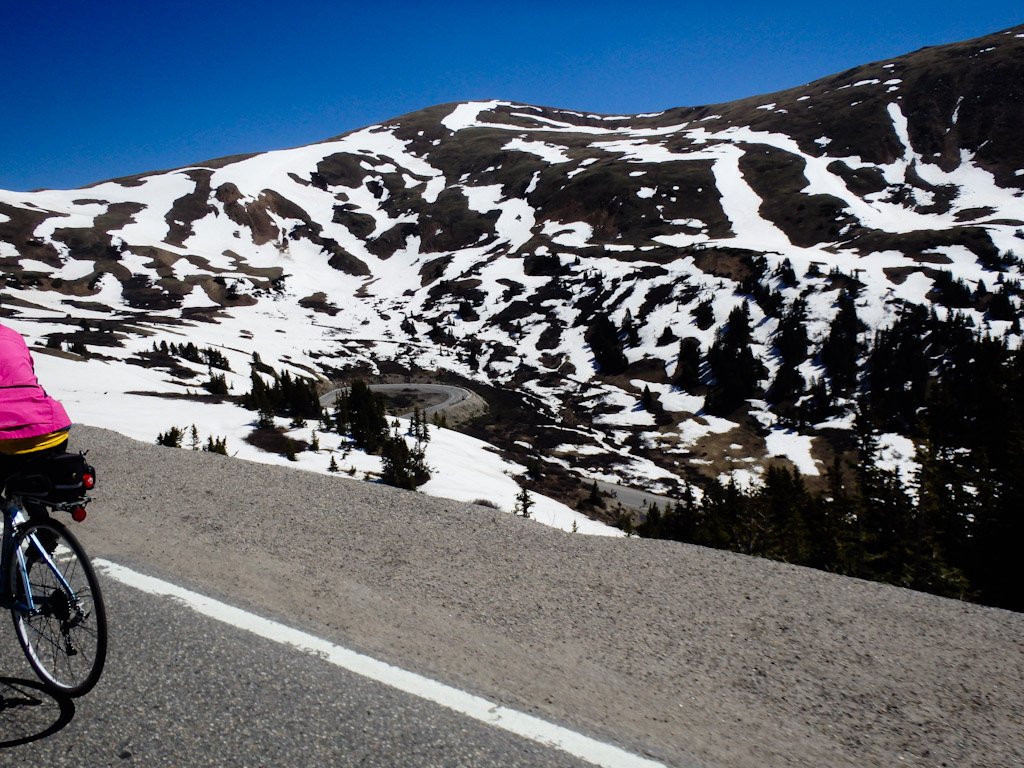 By this point we started to have a tailwind – yes – for the FIRST time on the ride, we had a tailwind and what a great place to have one.  It really made the climb that much more fun.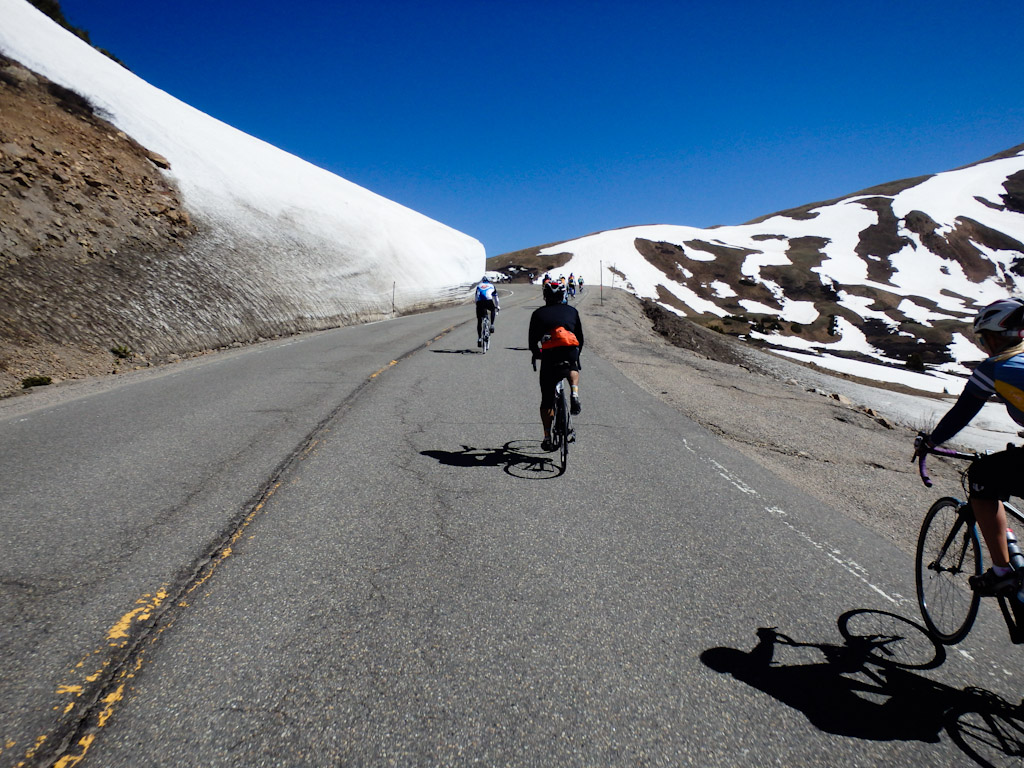 Then I reached the top.  Christina and I have a picture on our staircase wall of my brother and me lifting our bikes by the Loveland Pass sign 20 years ago – and it always brings warm memories.  I never thought I would climb this mountain again.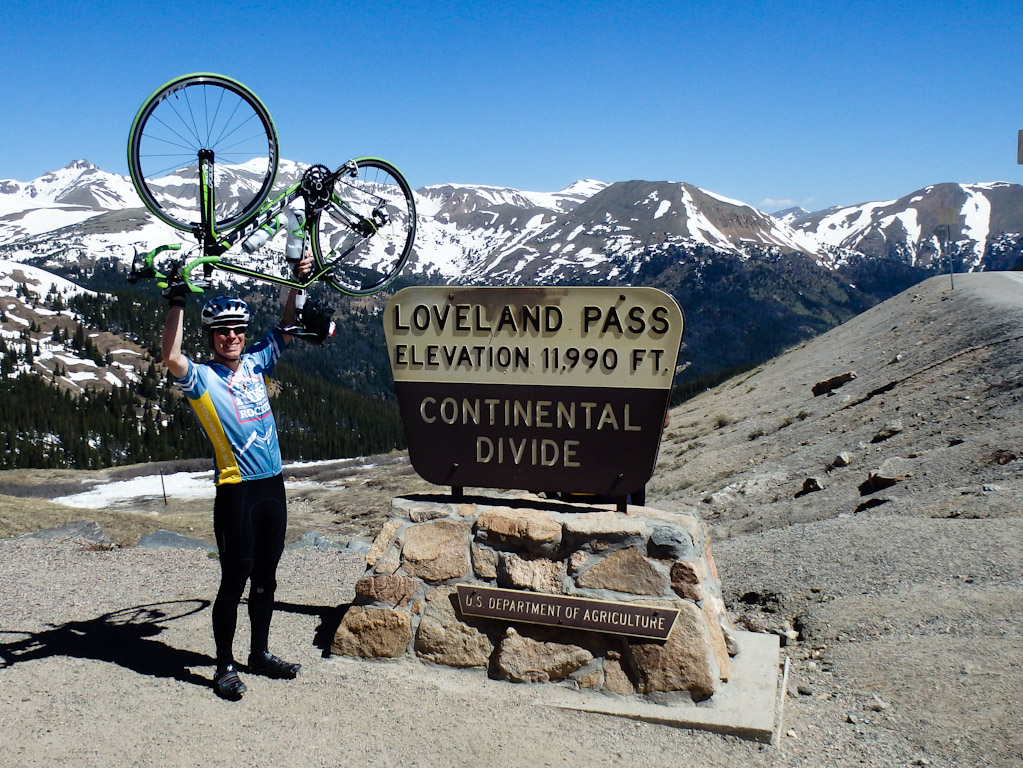 The downhill was a nice surprise.  After coming off the pass, we typically jumped on the shoulder of I-70 to join the traffic that just exited the Eisenhower Tunnel.  The Interstate has a steep descent where I once hit 66 MPH and I was looking forward to this stretch again but we were diverted to a bike path.
At first I was disappointed until I realized it was a very steep, very twisty and turny bike path that required highly technical riding.  It was a blast flying down the path.  Pure joy on wheels and a great way to end such a long journey.  Below is a video I took while holding my point-and-shoot camera to give an idea of the ride (keep in mind that I am going about 35 MPH so I couldn't look at the screen when framing the shot).
When we reached the bottom, the terrain flattened out and we had a whole new landscape.  After Idaho Springs was Floyd Hill, a 1.25 mile monster with an average 9 percent grade – but mercifully we had a tailwind so it was only very hard.  We then peddled to Lookout Mountain that overlooks the whole Denver areas.  After the last rest stop atop Lookout Mountain, we glided down to the finish line in Golden.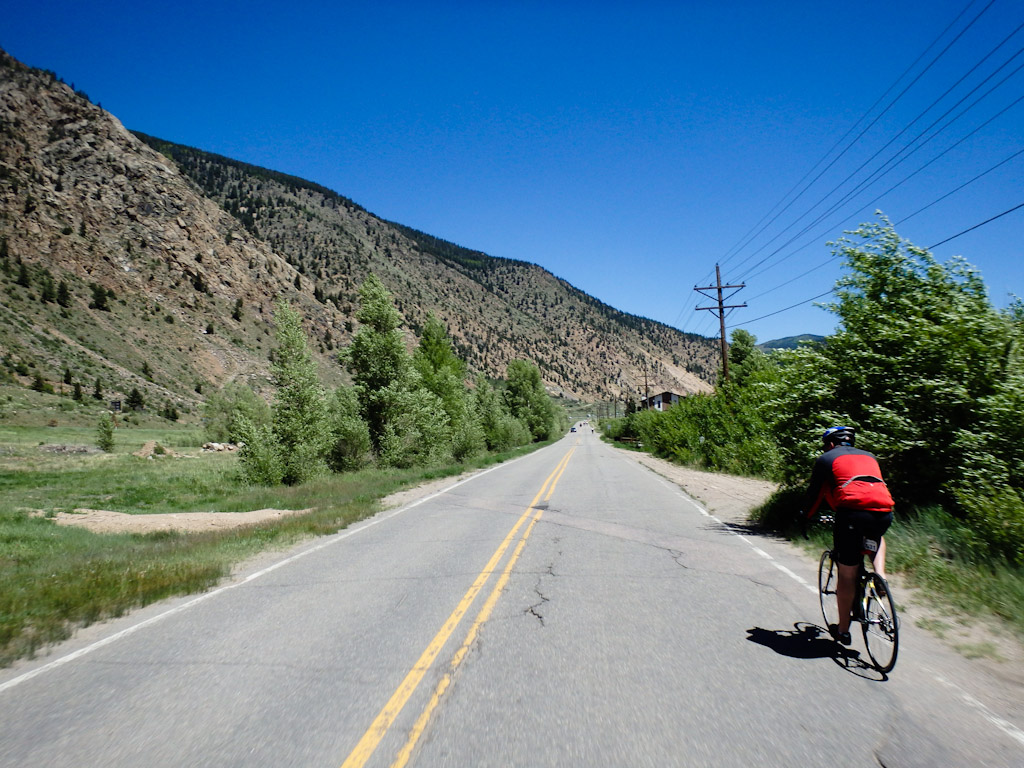 Below is a photo I took while approaching the finish line.  To be honest, I was exhausted, sick, had fairly bad saddle sores, and was ready to get off the bike.  It was a great feeling of accomplishment, for sure, but I was spent and ready for a few days of rest!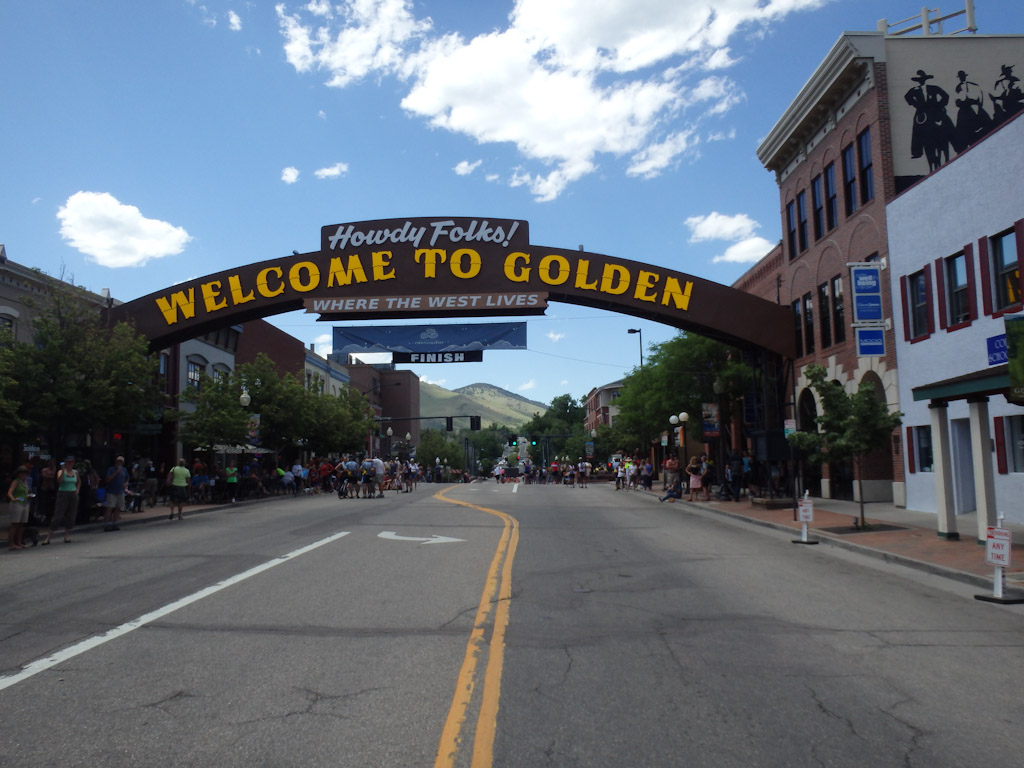 Me holding my bike at the finish line.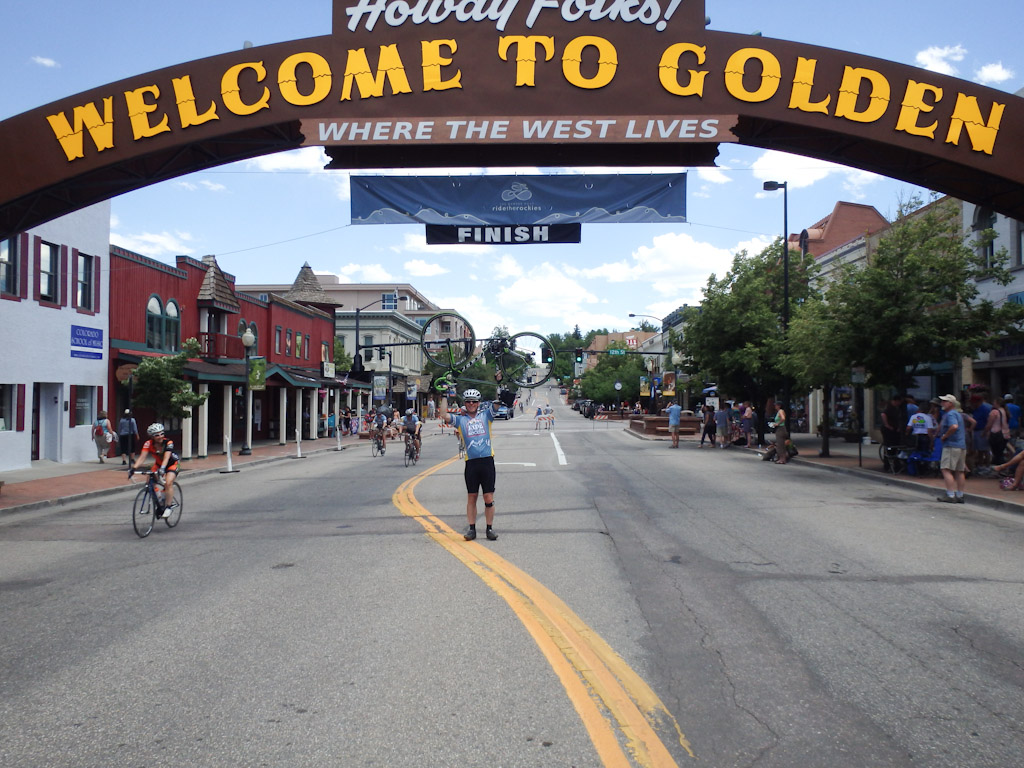 I don't know what's next but this has been an incredible journey so far.  However, after this ride, I feel like there is nothing I can't do and at the midlife age of 46, I feel like my best years are still in front of me – something I did not feel two years ago.
In this post, I used the word "I" a lot – perhaps too much.  But this would have been impossible without so many people.  First and foremost, Christina's support for this ride meant that she took extra Christopher duty (for months) while I was training.  She helped make me homemade energy bars and supported me in every way possible.  She is a treasure of a wife and I am eternally thankful to her.
I wanted to thank my friend David Kemp who answered my endless e-mails as I was getting back into shape.  He was a virtual coach – and his advice on exercise, nutrition, bikes, bike fits, cold-weather clothing, training schedules, etc., were enormously helpful.  David – you're a good man and I owe you.  Thank you.
Thanks to Christopher Butcher for signing up with me – I don't know if I would have applied just on my own and it was great to spend time together.
The support from my brother and sister were important to me too – especially my brother's advice for each segment as he has done much of these ride segments before.  I wanted to thank all my friends who helped me from Ann and Larry who put me up for a few days before the ride to the O'Leary's who took care of me after the ride.
And finally, I wanted to thank all my friends who believed in me, encouraged and supported me along the way.  I feel so blessed to have all of you in my life and so deeply appreciate all your support.