For me, this story begun on August 24, 2016 – the day I was hit by a pickup truck on a rural Virginia road.  I was left with a broken clavicle and thumb and a totalled bike.  The recovery took months, as did my comfort of riding on roads with cars again.  It was a long journey but one thing kept me focused more than anything else – the 2017 Ride the Rockies bike tour of Colorado.
Every good story needs a monster and going into this ride, I really had nothing – there were no significant challenges in my way.  But the TSA was kind enough to help me with the plot of this story – I now had a challenge.
The first day was believed to be the second most difficult ride of Tour going from Alamosa to Pagosa Springs, climbing Wolf Creek Pass along the way.  With my new cycling shoes, I was concerned that we were starting with such a challenging route.
We could hear small pebbles rolling down the steep roadside cliffs that we passed.  Off to the left was a river ushering the winter's snow melt to the valley below.  Punctuating everything was the sound of the rushing wind blowing through the canyon.  The combination of the views, smells, and sounds awakens the senses but when you are at battle with a demonic headwind, you tend to narrow your focus and shift to "get it done" mode.
Starting the descent was initially exciting as there was a roller coaster like drop-off where the road ahead just disappears.  But the same demonic wind that tried to break our spirits on the ascent was there to test our courage on the descent.  This was a white knuckle ride with winds blasting us from multiple directions.
The topology of the valley was vastly different than the east side of the Pass.  We rode through gentle, fence-lined meadows with glistening streams, as trees lined to road providing shade from the sun.  And not far in the distance were the steep mountains rising into the sky giving a sense of safety and intimacy.
In spite of the wind, we averaged 17 MPH – a respectable speed.  We were one of the first 90 bicycles in the bike security area.  And the best news was that with the new shoes, my knees weren't hurting.  Yet.
Other Day 1 Photos:
Today I started alone and finished with a group of old and new friends.  And the very end included an experience that was one of the highlights of the ride.
Photos from the climb to Yellowjacket Pass:
Being from Virginia, it can sometimes be a challenge to hang with advanced riders who train at altitude but whatever insecurities I had going into RTR were assuaged today.  I was able to be an equal participant among some pretty impressive riders.
The first 15 miles of riding with the Wish for Wheels group didn't seem to affect my knee but at the climb that started at mile 45, the pain in back of my knee started to get more pronounced.  About 3 miles from the summit of the final climb, I dropped off to take it a little easier.  I finally reached the aid station at the top (mile 53) and I found myself partially limping.  I met up with the group and used the opportunity to stretch all my leg muscles which helped a little.
 We headed out to Durango with a larger cohort of Wish for Wheels riders along with Ron Kiefel, retired pro rider who participated in seven Tour de France races and holds an Olympic bronze medal.  It was a fun ride and my knee wasn't bothering me as much.  The last several miles had an unbelievably fun downhill.  I took off sprinting down the hill when Ron zoomed past me.  I sped up and got on his wheel so I could coast in his slipstream to let my muscles recover a bit.  After a turn I then popped out and passed him.  It went on-and-on all the way down the hill.  If Ron were riding a kids tricycle, I would feel a sense of accomplishment to hang with him on a downhill.  But with both of us being on road bikes, well, this was an incredible day in my cycling life.  To give credit where credit is due, much of what I know about descending I learned from Ron.  Acording to Strava, I had the fastest descent of the entire day.  While I wish I could be a better climber, it still feels good to be really good at at least one thing.
When I got in, I called my bike fitter Chris Richardson, owner of The Bike Doctor of Waldorf (Maryland) to talk about my knee. By this time, it was really hurting and I was wondering if I was going to finish the ride.  Chris has a freakish encyclopedic knowledge of all things related to bikes and bike gear.  While he didn't carry the brand of shoe I had to buy on Saturday, he knew everything about it.  He said that the shoe I had tends to run a little lower than others and that I needed to lower my seat post 3mm.   It was hard to believe that 3mm would make a huge difference, but I have learned to trust him on these things.  Following his advice, I lowered the saddle.  I was wondering, will this really make that big of a difference?
Day 3 is a loop day – the ride starts and ends here Durango.  With my knee bothering me and the hardest day of the ride tomorrow, I decided to play it safe and sit the day out.  It is only 39 miles anyway.   While not an easy decision, it was a lot easier to make than I thought.  There was nothing I needed to prove to myself this time around.  Entering this ride in the best shape of my life, this was my eighth Ride the Rockies and there is no doubt I had the ability to finish it.  So I spent the day continuously icing my knee and getting a leg massage.  It is feeling better, but tomorrow is a really hard day.  Will I be able to put this behind me?
Today was the day everyone was worried about – 83 miles, three mountain passes and a lot of climbing.  Had it not been for the wind on Day 1, today would have been the hardest day of the tour.  With my knee issues, I started the day with trepidation.
In anticipation of a long day, the riders were up especially early.  In Ride the Rockies, people usually start getting up around 5:15 but today there was significant activity at 4:45.  I sleep horribly on these rides and didn't see any reason to rob myself of any more sleep than I needed to so I slept in and was one of the last people to leave the school.  I woke up at 5:30.
Considering my knee issues, I started today easy.  It helped that the first 14 miles were flat.  From mile 14-25, there was a respectable climb taking us to an aid station near the Purgatory ski resort.  I wondered that if I was able to ride past purgatory, what would await me on the other side?  At mile 30 we started our climb of Coal Bank Pass.  It was a standard Colorado climb, difficult but but never too steep.  The downhill was spirited but short.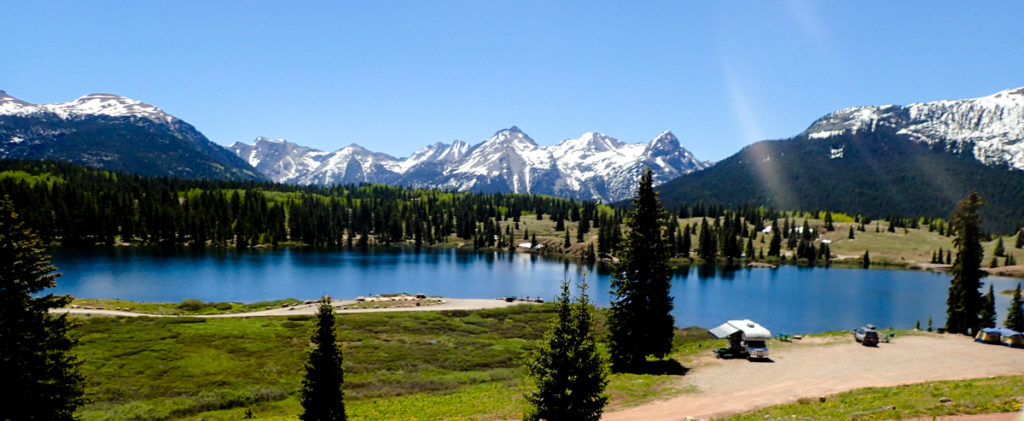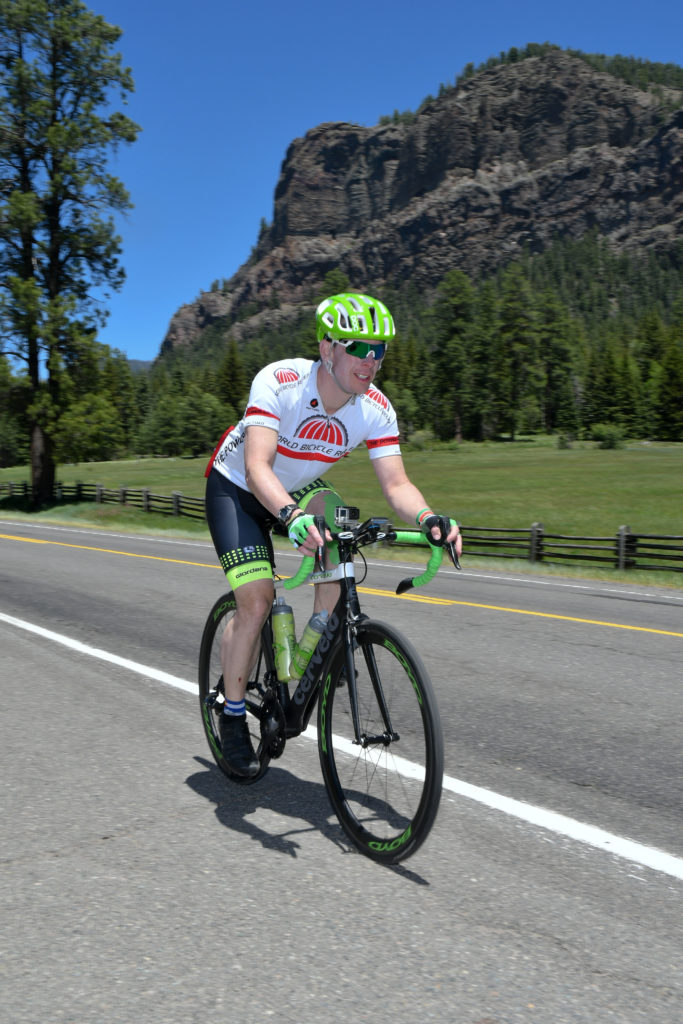 Following Coal Bank Pass was Molas Pass.  I caught up with Pete and Bob at the top.  Bob and I enjoyed another fun downhill (Pete had the good sense to take descents at a safer speed).  At the base was the relatively untouched town of Silverton, looking like a movie set from an old western.  The businesses along main street had flat, wooden, angular surfaces, and the road was dusty.  I almost expected to see a saloon with two swinging doors and a hitching post in front.
 After the detour, Bob and I started our third, final, and hardest climb of the day – Red Mountain Pass.  This climb and then descent into Ouray is called the Million Dollar Highway, and after eight Ride the Rockies, this was my first trip to this fabled road.
The climb up Red Mountain was the longest of the day but thankfully, we had a slight tailwind to help us in certain parts.  When we ponder history and think about taming the West, we rarely think about how we also tamed nature.  But here we were on a road that had no business being there.  The mountain was pure rock with pitched edges, and yet humanity tamed the mountain to allow vehicles to travel along its treacherous and inhospitable topology.  As I climbed higher and higher, I could look down the edge and see 1,000 feet down to the road we were riding just 30 minutes ago.  This feeling of accomplishment quickly evaporated when I looked up to see another road far, far above me.  There was still much work to be done.  At this point, you stop trying to calculate how much effort it will take, you just keep pedaling.  At one part, I could hear Ellen DeGeneres singing, "Just keep pedaling, just keep pedaling…"
We were all tired, running out of steam, and then we heard the cowbells.  The blessed cowbells.  This let us know that we were close to the top.  This sound of encouragement gave us the power to finish the climb.  After the aid station at the top, Bob and I set off for what promised to be a screaming descent.
The trip down was harrowing at first.  The severe pitch had hairpin turns so tight that we had to ride our brakes all the way through.  But then we were hit with such indescribable beauty that I realized that if mile 25 was Purgatory, then mile 60 was Heaven.  I turned a corner and saw sheer rock walls that took my breath away.  After the second bend, it was something different, even more spectacular.  Each bend revealed a creation so grand that it touched our very souls. Riders were so full of emotion that they no longer could keep it inside.  Some screamed, some laughed, some cried.  In my 49 years, this was the most beautiful thing I had ever seen.
There was an aid station in Ouray, Colorado that has to be the most beautiful place to live in the United States.  It is often called the Switzerland of the United States.  This old mining town that now lives on tourism is one of our greatest gems and few know about it.  At the aid station, everyone was sharing their experiences – there was a certain release just to try and describe what we just witnessed and experienced.
The ride from Ouray to Ridgeway was mostly downhill and fun.  The mountains and cliffs were a dark red that kept our gaze until things got flat.  Bob and my bikes were two of the first 100 in the bike security area.  So although I was late to leave, somehow I had ended up passing most the riders.
That evening, Bob, Pete, Claire, her friend Jess, and I went to Ridgeway – first to a great microbrew, then to Taco Del Gnar where we had the best tacos ever including a Korean Short Rib taco (Braised boneless beef short rib served on a flour tortilla and topped with spicy shredded kimchi cabbage), a pork belly taco, and another just as interesting.
After dinner it was back to the gym – three more days to go.  And the best news of the day was that my left knee didn't hurt – Chris' advice to lower my saddle by 3mm was exactly the right prescription.
Today had the option of a short, mostly downhill 32-mile ride, or a 52 mile ride that included a 10 mile hill to climb.  We chose the harder option.  Bob, Rob, Claire and I set out on this cool morning.  As we hammered to the first aid station, we picked up a fifth rider, Steve.   When we arrived at Aid Station 1, we had averaged 24 MPH for the first 20 miles.  We all felt great.  As we were getting to know Steve, we learned it was his first RTR and he decided to do the ride since it was starting in his home town of Alamosa.  He was a strong rider, but had some ailments that were due to some rookie mistakes.  We helped give guidance as to how he could overcome these and suggested he ride with us the following year.  It was great to meet him.
We recollected at the bottom of the hill and then went on to Montrose.  The initial small hills were killing my legs – I just didn't feel like I had much gas left.  But with maybe four miles left, I took the lead of our pace line and pulled the group in.  We were on fire, averaging 27 MPH the whole way.
In Montrose, Pete, Bob, Rob, and I went to Horse Fly to get some well-deserved and delicious beer and burgers.  I also had an inspired idea to bring all my dirty laundry into town and stuff them into a fixed-rate box, and mail them back home.  So for $13, I freed up a ton of space in my bag.
That evening, we got a text that made my week.   Steve (the rider who started the day with us) texted us with the following message:
This was the penultimate day and you could see a collective fatigue in the riders' faces.  Some people were looking drained, their steps had less of a spring.  But we were mostly done – just two more days.
But then something wonderful happened.  The sun came out, the warm air changed the dynamics, and the wind shifted in our favor.  We cycled to Blue Mesa Reservoir, a crystal blue lake that reflected the snow-capped mountains in the distance.  So much of where we rode was high country desert so seeing water was a nice change of scenery.  Bob and I powered along the reservoir in our own pace line, and enjoying speeds in the 30s.  We did a quick stop at the final aid station and then powered into Gunnison.
At the end of the day I had asked people if given the choice of today as it was, or a windless day, what they would prefer.  Most chose the windless day option but me, I would suffer the punishing headwind again for 40ish miles of a strong tailwind and cycling in the mid-30s.
That evening Melissa, Claire, Jess, Rob, Bob, Pete, and I had beer and pizza (beer and pizza were becoming a habit).  As we climbed the stairs to the second floor, my leg muscles screamed.   While I was feeling good overall, my body was giving me unsubtle hints that it was ready for the ride to be over.
The morning started early.  The riders were collectively insane waking up in the 4:00 hour.  We didn't feel the need to rush and when we left the gym, we were only maybe one of five people left (of hundreds).  And this was at 6:00 am.
The road was mostly on the outside, with sheer drop-offs along the side.  At times we could look back at the ground we covered, watching cyclists far below struggle like we did.  The pass is not terribly difficult, but is is long and has a consistent grade.
And then, the final cowbells.  I LOVED those people and was going to miss them.  We were near the top.  A few minutes later we could hear the music from the DJ who was at the final aid station.  Bob, Claire, and I all connected again and took photos at the Monarch Pass sign.
After a big ride like this, there is often a big let-down when it is over.  You spend months training, your whole life is largely focused on this goal, and then suddenly, it's done.   It is a rather abrupt ending to something that took months and countless hours to prepare for.  And while we still had 23 more miles, it started to feel bittersweet.  We had had such a great week together and this was the final aid station.
The three of us powered down the mountain at crazy fun speeds and as it flattened out, we rode in a pace line.  With the finish line close, I felt on fire and took the final pull.  Through Salida there is one Strava segment where we didn't just have a good time for the day, we had the second best time ever on that stretch – blowing through the town at 39 MPH (thanks to the police for blocking intersections for us!).  We crossed the finish line, three abreast, awash in the fresh emotion of doing something epic.
Bob's fiance Jennifer surprised him and showed up at the finish line which made it all that much better.
After the finish, we did some more talking, found our bags and took showers, disassembled our bikes for transport, and enjoyed greasy burgers and fries.  And then it was over.
One may wonder why people do a 'vacation' like this every year.  It is a week of getting up long before the sun, a week of porta-potties, sleeping on gym floors (if you do indoor camping), getting terrible sleep, and facing some nasty adversary from nature whether it be wind, rain, sleet, or snow.  It is a week that pushes you physically where you have to rely on raw grit to keep going at times.  I wonder this too.  Then I think of the movie A League of their Own when a player complains that it has gotten too hard.  The GM Jimmy Dugan says, "It's supposed to be hard. If it wasn't hard, everyone would do it. The hard… is what makes it great."   And I think in the end, this is a big reason I keep coming back.  I love the vistas, the smells, and the sounds of nature, feeling a kinship with all the living things I encounter on the ride.  I love meeting interesting people who come from around the world to do this ride.  But I also like that it makes me unique, and helps build my capacity to suffer and persevere through adversity.  I like that it makes me stronger not just physically, but mentally.
In over eight tours, I can't say that there has ever been a bad itinerary, but this year's course had some of the most beautiful routes I have ever seen.  On top of the superlative beauty was a camaraderie that is built among people who share the same experiences and struggles.  It was a year where I was fortunate to make new friends (Lisa, Brielle) and strengthen existing friendships.  And in the process, Team WBR  radically changed the lives of over 140 people.  If somehow every memory of the ride were erased and the only thing I could remember was that we changed the lives of 140 people, it would all be worth it.
If you are inspired and want to join our 2018 team, e-mail me a mrobrien AT gmail.com.   Here are the details of riding with Team WBR:
1) You need to raise $1,470.  Each bike is $147 – so this is enough for 10 bikes
2) If you are on team WBR, you bypass the lottery, automatically getting into the ride
3) We have a series of phone calls to help get you prepared.  Topics of calls include: a) a call with a coach to talk about training for a ride like this at altitude, b) how Ride the Rockies works – what to expect, c) logistics – transporting your bike, getting to the start and finish line, etc., d) what to bring and how to pack (with a list of things you can get from Amazon), e) sleeping options, f) help with fundraising.  We cover other things too but these are the biggies.  You also get experienced riders who are happy to talk 1:1 with you about questions you have.
4) Since everyone rides at their own speed, there is no expectation that we ride a one big group, but typically there are pockets of riders of similar skill who ride together.  Then we socialize together in the evenings.
5) You are left with an incredible feeling that you helped transformed the lives of 10 people and were a source of light in this world.