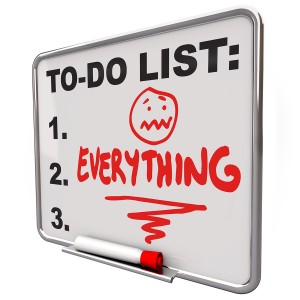 I always struggled with productivity in my career.  I got things done, rose fairly high to the executive ranks, but task and time management was a constant challenge.  When I left the traditional work world to become an independent consultant, these shortcomings were amplified and it became clear that I had reached an inflection point.  If I couldn't somehow increase my productivity, I was going to soon hit a "Peter Principle" ceiling.
During this period, I have learned so many things about productivity that I wanted to share to  help others who struggle with the same thing.
1. Productivity is about prioritization skills, not getting more done
I thought that highly productive people got more done than unproductive people.  I thought they somehow typed faster, read faster, thought faster, walked faster – and all this speed allowed them to get more done.
I have come to understand that there is no magic or hidden secret to being productive – often productive and unproductive people take the exact same amount of time to do the same tasks.  The difference is that the productive person is not going to act until they have a full understanding of everything that is in front of them (that includes
getting their inbox to zero
), and then only working on the highest priority things first.
If productivity is about getting the most important things done first, then it stands to reason that there may be unproductive people who actually get more done in a week – they just aren't getting the most important things done.  So a focus on the number of completed tasks could easily lead someone down the wrong path.
At the end of the week, both the productive and unproductive person are going to have a list of things that didn't get done.  The productive person will make peace with this list and let these less important things fall off the cliff.  The unproductive person will need to carry forward the important things on their list to the next week, and this continues to build each week like credit card interest until they feel like they are hopelessly behind.
So in the end, productive people don't succumb to the tyranny of the urgent, and focus instead on what's important.  This can only happen when the person is in a perpetual calm state of mind.
2. Make time for what's important, and nothing else  
I am interested in many things and want to squeeze as much out of life that I can.  However, I realize that focusing on too many things is a path to chaos.  Right now my life has four primary pillars: family, friends, fitness, and work.  To do these well, I don't have time for TV, new hobbies, blogging (oops!), or much anything else.  Would I like to expand and learn pottery, a new language, ornithology, botany, how to fly a plane, make stained glass, or how to balance my checkbook?  Absolutely!  But taking on anything else would come at the detriment of the other four things – and I am unwilling to compromise on these core values of mine.
My brother was once urging me to listen to an audiobook that he just finished.  I said, "I just don't have time." Then a second or two passed and changed my response, "Well, I do have time.  But here's the deal. Since I don't commute, the only time I would have to listen to an audio book is when I am running and cycling and while I could do this, this alone time is really important to me.  It helps me think through the day, solve problems, and just practice mindfulness.  So if I committed weeks of exercise time to listen to this audiobook, I would lose this alone time, and that is just something I am not ready to do right now."  I suspect he was sorry he asked!  But by being more specific and honest, these words were incredibly powerful to me.  "I don't have time" is language of someone who lacks control.  "I choose not to do this because of x, y, and z…" is language of someone who is in control.
3. Strive to be deliberate in everything you do and avoid falling into the trap of being reactive 
A productive person never thinks, "Okay – what's next?" They consistently reassess the landscape and have a deliberate battle plan on how they are going to achieve their highest priority items.
For example, working out of your e-mail inbox is almost always reactive (as opposed to categorizing all your messages into a central system and then being deliberate as to which projects/tasks you are going to work on).
As someone who has been reactive for such a large part of my life, this still takes a lot of energy and work so I do things to force myself into this mindset.  For example, I resist the urge to start my day with e-mail.  I do a quick scan to ensure there are no true emergencies with the goal of not responding to, filing, or deleting one message.  I then pick a few tasks that are important but require a short amount of time and do those.  This helps me start the day with the mindset that I am in control – not the things constantly bombarding me from the outside.
4.  Do not attempt to multi-task
Understand that as humans, we absolutely cannot multi-task.  Moreover, any attempt to multi-task (either intentionally or unintentionally) quickly drains your brain's prefrontal cortex of it's rationed supply of glucose (fuel).  Once low on glucose, your ability to prioritize, exercise willpower, or make good decisions diminishes greatly.  In light of this, strive to only do one thing at a time.  This is extraordinarily difficult with so many things trying to grab our attention – but don't take the bait.  For example, disable the Outlook feature that shows you when a new e-mail arrives.  Close Facebook and all other sites/apps that make noise to alert you to something new.  Get rid of anything that is trying to steal your attention (except, perhaps, your smoke alarms – keep those.  Oh, and your spouse too.)
5.  Unplug
In athletics, it is universally accepted that rest and recovery are critical elements of growth and improvement.  They are equally important parts of growth and improvement in business, but we often perform from the moment we wake up to the moment we go to bed.  This leads to clouded thinking, a drained prefrontal cortex, and kills your ability to practice mindfulness.  And if you cannot be mindful, there is no way you can self-evaluate, adjust, and improve.  You will plateau and often burn out.
So how to fix?  In one word: Unplug.  Find time in your day (and not during your commute) to be alone with your thoughts, away from distractions, and outside your regular confines.  Some people do this by meditating, yoga, prayer, solitary exercise (like running), etc.  But this seemingly unproductive time will yield significant returns.  Einstein credits cycling for coming up with his theory on general relativity – perhaps he was on to something.
6.  Focus on energy management, not time management.
Good time management is a symptom of good energy management, not the other way around.
When you are frantic jumping from one fire to the next, it becomes a state of being and it is difficult to change this habit.  In this state, it is impossible to think clearly about everything that is front of you and make calm, reasoned decisions.  Strive to always have a sense of calm, a sense of control, and take emergencies in stride.
Also, some tasks are more mentally taxing than others.  Be mindful of this and schedule accordingly.  Reviewing a 50-page contract on a Friday at 3:00 p.m. just isn't going to work for most people.
7. Set boundaries
This was perhaps my biggest lesson learned in productivity.  Learn how to say no to things that aren't a good fit for you.  When you are asked for help – try to find the best way to help that plays to your strengths – which may be different that what was originally visioned but is actually more impactful.  You are not doing the requester any favors by saying yes to something you don't have time for.
8. Understand that when you say "Yes" to one thing, you are

always

saying "No" to something else.
You may be saying "no" to goof-off time, Facebook time, or TV time that you are happy to offset.  But it could be family time, exercise time, sleep time, or middle-of-the-day-have-to-get-stuff-done time.  It is okay to say "Yes" – just know what the trade-off is going to be before you commit. Managing time is a zero-sum game.
9.  Be mindful of the true cost of commitments.
I used to drive into the city to have lunch with friends.  However, when you factor in traffic, parking, the actual lunch, etc., this comes out to nearly a half day!  If you are asked to serve on a board, fill a post at your church, etc., try to understand what a full year's cycle looks like and ensure this works with your current commitments.
One thing that helps is to block travel time on your calendar (and mark it a different color – I use gray).  When that one appointment is now taking 1/3 of your day, you start to see it differently.
10.  Get 8 hours of sleep a night.
Cheating yourself on sleep results in slower cognitive function that will slow you down during the day.  It will lead to you making more mistakes, poorer decisions, will negatively impact your will-power, and on top of this, your health will decline and you will gain weight.  And for all of this, you get no further ahead than if you got enough sleep.  In fact, 
study
after
study
 has shown that lack of sleep can lead to judgement and reaction times that are equivalent to someone who is legally drunk!  Here is a good
YouTube video
on the topic too.
11. Exercise – preferably in peace  
A huge part of being productive is keeping your prefrontal cortex at peak efficiency.  We get a certain ration of glycerin throughout day but this ration can be positively affected by exercise.  Time spent exercising is not lost, but gives me more mental energy throughout the the day that allows me to focus and make good decisions.
While going to spinning class or lifting weights in a gym is great, I like to run and ride my bike – I find this solitude builds mindfulness that allows me to stay calm, focused, and in control.
12.  Understand that there is no magic to productivity or good time management.
It is just a series of decisions, trade-offs, and aligning your values to how you spend your time.  They key is to put yourself in a position to make the best decisions – get enough sleep, exercise, eat right, practice mindfulness, with all of these things working for you, prioritize, get the most important things done, and don't care about the things that don't get done.
13. Seek help
If time and task management is something you struggle with, consider a productivity coach.  I will say that my coach was incredible and has had more of an impact on my career than perhaps anyone else.  We are all good in some things and struggle in other areas.  if this is an area where you struggle, there are incredible people who can help you find a path that works for you.
Earlier in my career, many of these observations/tips would have sounded distasteful to me.  I am a nonlinear creative type, and the idea of structure seemed confining to me.  But over the past few years my context has changed.  I love my job, but I also love my wife and son, and I realize that when I am less than productive during the workweek, it means that I need to take time away from my family to catch up.  So the more I can fit everything in the 40-hour work week box, the more I have time for the people and things I value most in life.
So that's what I have learned since I have started this journey toward becoming more productive.  I have not become a time management master, but have experienced substantial improvement and thought that some of these insights may trigger something in my readers.  Let me know if any of these resonate with you either via comment below or an e-mail.