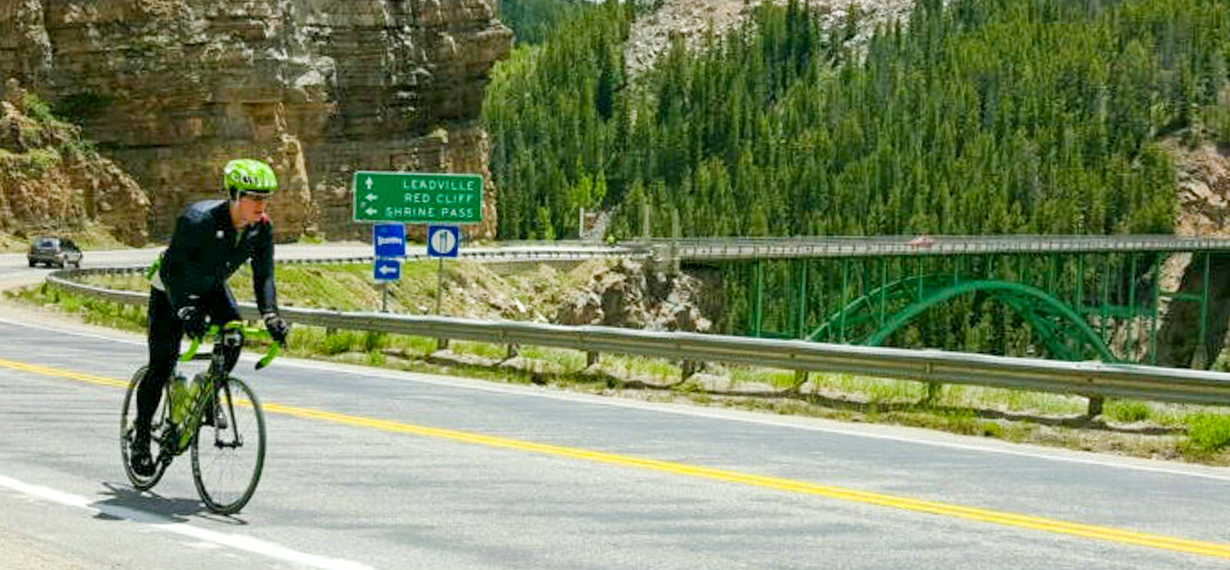 Prologue:
When my brother Pat was a priest in Aurora, Colorado, a parishioner named Steve O'Leary introduced him to bicycling.  In November of 1992, Pat came home for Thanksgiving with a VHS tape of a bicycle tour he just did with Steve called Ride the Rockies.  It seemed unreal that normal people with day jobs could get on bicycles and scale our country's highest mountain passes riding hundreds of miles in a week. It defied all imagination.
That Christmas Pat gave me his old red Fuji road bike and asked me to do Ride the Rockies the next year.  I accepted, not realizing that I was starting a journey that would be foundational to my life and even part of my identity.  For four years in the 90s, I rode with Pat, Steve O'Leary, and a consistent group of cyclists.
After those four tours in the 90s, I took an 18-year break putting on 60 lbs and taking off 60 lbs, and did it in 2014 and 2015.  Here starts my story.
My BIG problem
Having done the ride six times prior, I have a comfort level with how to train and prepare for this ride. It has become routine.  But this year I had a problem.  Starting on a local mountain ride the summer before, I developed a nagging knee pain that was not improving.  I got an MRI and the orthopedic doctor couldn't see any damage and couldn't explain why I was having this pain.
I kept riding, but I couldn't push myself.  I was getting in miles, but I was getting weaker.  My aerobic and anaerobic capacity was diminishing considerably and when I did try to ride hard to build this capacity, my knee would ache for days.  I spent many hours with ice pads on my knee and took Aleve around the clock.
I found a great Physical Therapist who quickly discovered that some muscles in my legs were out of balance, pushing my knees inward.  I went to my PT every week and spent spent time every day doing the exercises prescribed to me but progress was slow.  I also discovered that over the past year, my saddle had sunk an astounding half inch.  For this level of cycling, a half inch is HUGE.  If you moved my saddle 3mm, I would probably notice it immediately, but this change was so gradual that it went unnoticed and the damage was done.
Now my saddle was at the correct height and my PT exercises were improving, but Ride the Rockies was less than a month away and I wasn't seeing the improvement that I needed. I was accepting the fact that I may need to SAG a few days (SAG is when they pick you up and drive you and your bike to the finish).
Riding Mates
Like last year, I formed a team for World Bicycle Relief.  It was a big success so I did it again and this year we raised enough money for 80 bicycles!  Team members were Rob Ison – who did the tour last year and a colleague from Gartner, Allison Makarainen – another colleague at Gartner, Steve O'Leary, an old friend of mine, Dave Carroll  – another friend of mine, and me.  Dave unfortunately got altitude sickness and had to leave the ride early.
The understanding was that we would all ride our own pace but spend time in the evenings together. Because Steve and I ride at the same pace, he is mentioned more than others in this recap of the ride.
Day 1 – Carbondale to Aspen. 50 miles, 4,253′ elevation gain. Team World Bicycle Relief left Carbondale early for our trek to Aspen. Like a glass of ice water thrown in our faces, we were quickly met with some climbs that were over 10% grades. Note that most climbs in Colorado are 4-6.5% – so 10% is considered to be steep.  We rode through picturesque meadows, the roads often lined with weathered wooden fences. In the foreground was the snow capped Mount Sopris, cold and barren, providing a contrast with the lush green surrounding us.
This day was almost all climbing.  After 40 miles of climbing, the road decided to kick it up a notch and give us a much steeper incline.  It looked short so many riders, including me, attacked it out of our saddle. Big mistake. The climb was long and steep and our legs were burning as if they were injected with acid.  We eventually made it to Aspen.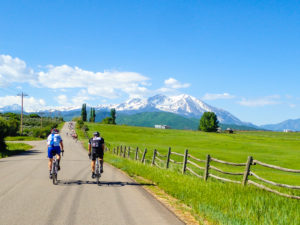 While this was a short day of 50 miles, it was far more difficult than most imagined.  My knee hurt a little but was better than I expected.  Mine was the 75th bike in the bike security area so while I objectively did well, I was feeling out of sorts.  I didn't have a rhythm, I was getting a cold with a runny nose and wasn't feeling as good as I should have.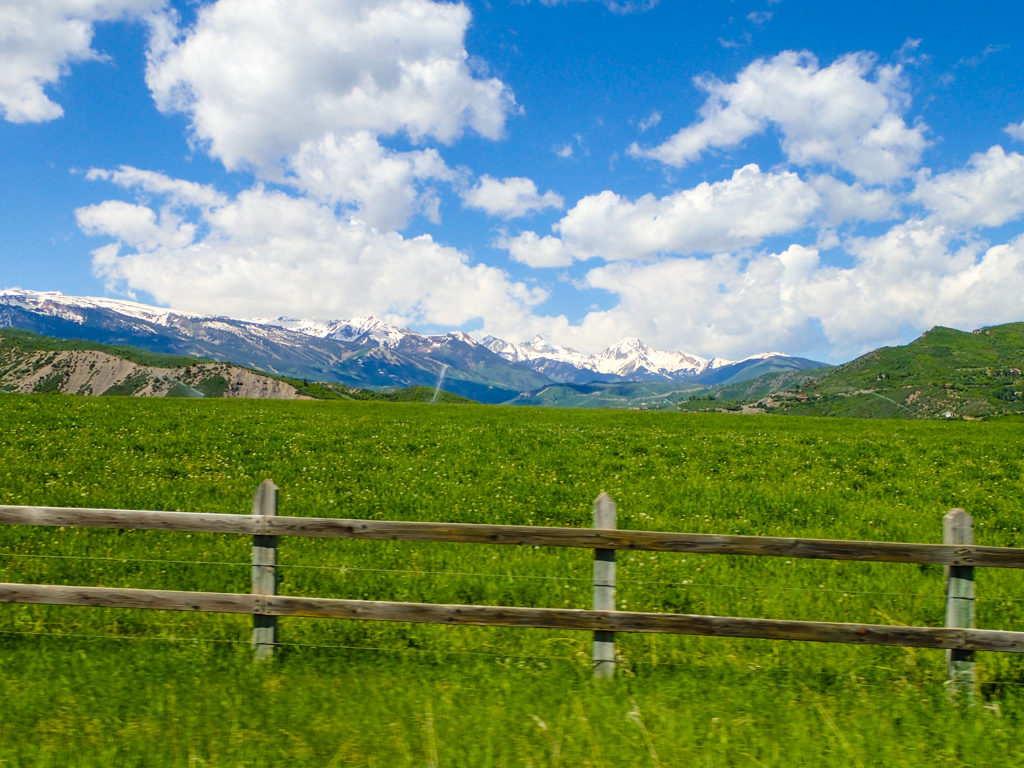 Day 2 – Aspen to Copper Mountain.  85 miles / 7,655′ elevation gain.
Major climbs: Independence Pass and Fremont Pass. 
The climb up Independence Pass started straightaway, overwhelming my senses.  We first started climbing through an Aspen forest.  The low sun reflected its warm light on the white trunks creating a contrast with vibrant greens of the canopy.  At the same time, the impatient waters from the snowmelt were racing down the mountain all around us.  The peacefulness of the forest was offset by the violence of the water creating feelings of relaxation and power at the same time – the perfect mindset for climbing Colorado's second highest mountain pass.
As we gained altitude, the aspens gave way to stark rock cliffs with beautiful oranges, browns, and blacks.  From the cliffs we graduated above the tree line where the air got thinner and colder.  My breathing was so intense that I could only say a few words per breath, all the while going a speed that was slower than most New Yorkers walk.  I frequently peered over the guardrail to the road far far below where we were an hour ago. When I wasn't looking over the edge, my eyes frantically searched for oxygen molecules that I could gobble up.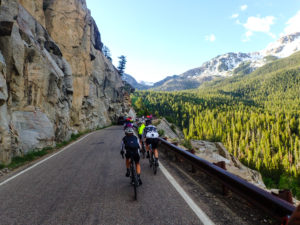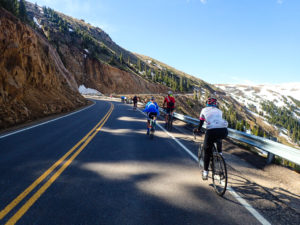 There is a beauty in the barren landscape above the tree line – this permafrost landscape is other-worldly and is somewhat what I would expect to find on the surface of the moon.  It is windy but perfectly still and peaceful.
After a long hard climb, I finally reached the summit.  The views from atop Independence Pass, looking down on our surroundings, gave us all a tremendous sense of accomplishment.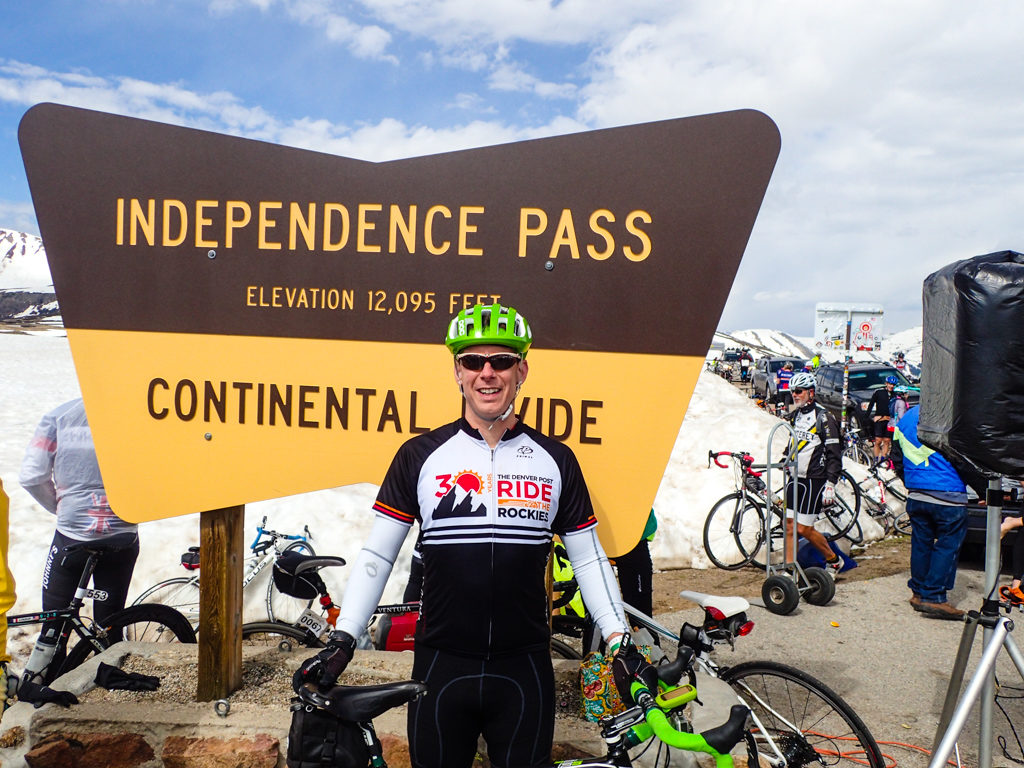 I met up with Steve and Allison at the at the summit's aid station and Steve suggested that he and I descend together.  The anticipation waiting for him to collect his bike was like a kid at the gates of Disney World waiting for it to open – there is nothing more fun to me than a screaming mountain descent.  Soon enough we were on our way down, passing other cyclists and cars like they were standing still.  While not a technical descent, there were a few hairpin turns to make it fun.
I wish this is where the day ended, but there was so much more to go.  The rest of the ride was like a houseguest who overstayed their welcome.  I felt done, but we were not even half finished. Steve and I hammered down to Twin Lakes and then started the long slog to Leadville.  And then we started our climb up Fremont Pass.  We had a merciful (and highly unusual) tailwind for the first part of the climb.
While not the most inspiring climb in Colorado, one benefit of Fremont Pass is the ability to pick up speed on the descent.  My brother Pat once hit 65 MPH going down Fremont. Two years ago, I hit 53 MPH. But after a hard day of pedaling, the cycling gods were contemptuous, giving us a mean spirited headwind.  The fastest I could muster was 45 MPH.
Shortly after we reached the bottom, we rolled into Copper Mountain.  I should have felt good after overcoming two major passes in a day, but my cold was coming on stronger and I just felt off.  My concern about my knees shifted to my general health – I was shifting from "fun ride" mode into "get it done" mode.
In my seven years of doing Ride the Rockies, Copper Mountain was unquestionably the worst place we have ever stayed.  It often took an hour to do basic things that normally take 10 minutes. We needed a shuttle bus to take a shower, to get to our bikes, to bring our luggage to camping.  Moreover, although it snowed  in the surrounding mountains that night, they had the AC running and it stayed in the 40s all night long.  Few of us were prepared to sleep in such freezing conditions and I woke up multiple times shivering uncontrollably.  I did a quick Google Maps search to see if there was a nearby hospital where I could spend the night in a warm ER waiting room.  No luck.
Day 3 – "loop day" – the Copper Triangle.  79 miles / 6,537′ elevation gain.
Major climbs: Fremont Pass, Tennessee Pass, Battle Mountain, Vail Pass.  
Ride the Rockies often builds in a loop day where we start and finish in the same location. This allows riders to take a day off if they want, and makes it easier on the RTR staff and volunteers too.  This year the loop is known as the Copper Triangle going back over Fremont Pass, then up Tennessee Pass, then Battle Mountain, then over Vail Pass back into Copper Mountain.
Having gotten almost no sleep, feeling sick and considerably out of sorts, my body was screaming at me "STAY HOME!!!"  The weather was freezing outside, I was already feeling cold from sleeping in a virtual refrigerator and felt discombobulated.  But then I thought about a great piece of advice from my brother- in-law – when you can't decide between doing something and not doing something, go ahead and do it.  Most regrets in life are from missed opportunities.  So I decided to go.
Fremont Pass was cold with a headwind, and I still hadn't found my climbing legs. I was being passed by everyone – even riders in their 60s and 70s riding heavy bikes built in the 60s and 70s. Team World Bicycle Relief stayed shortly atop Fremont then started our descent. The cycling gods were clearly ticked as we had a headwind on the way down.  But just to make it more difficult, we were being buffeted with gusts of wind from the side, making it difficult to stay upright.  The trek through Leadville to Tennessee Pass was gray, cold, uninspiring, and still had headwinds.  I kept finding myself closing my eyes because I was so tired.  At this point, I was regretting leaving for the ride.  I was exhausted and still felt out of kilter and we weren't even 50% done. Steve needed to get his bike worked on at the aid station at Tennessee Pass so I tried to get a nap but it was too cold and windy.
We left Tennessee Pass for some more cold, windy, and uninspiring riding.  At mile 44 we reached Red Cliff and started up Battle Mountain. At this point, the sun came out, the wind stopped, the surroundings became more beautiful, and I discovered that I must be part reptile.  The moment the sun warmed me, I found my climbing legs for the first time this week and powered up Battle Mountain.  The trip down Battle Mountain was exhilarating – it was a fairly technical descent and I was hitting the turns at full speed.  This is what I loved about Ride the Rockies.
Steve matched me on the descent and we rode each other's slipstream to the next aid station in Minturn. We left as a team from the aid station but Rob and I found that we had lost Allison and Steve, and at some point I lost Rob.  For the first time, I felt like I was actually cycling well.  The climb up Vail Pass starts on roads that parallel the Interstate. It wasn't inspiring but at least I was warm (and had a slight tailwind). At mile 66, we left the roads for a bike path to take us over the pass. On parts it was especially scenic taking us through Aspen forests.  I was flying up the pass and compared to the rest of the week, it felt effortless. After the aid station at the summit was the descent back into Copper Mountain. It was on a bike path that I thought would be fun but it was too narrow with blind turns so I largely rode my brakes.  The path dropped us off directly into Copper Mountain.
While I started the day regretting that I rode, I am so glad I went.  In so many things in life, there is a tipping point where things drastically change – and this was it for me.  I was feeling stronger, happier, and ready to take on the rest of the ride with everything I had.
And just to end the day on a good note, the people at Copper finally turned on the heat and I had my first decent night's sleep.
Day 4 – Copper Mountain to Grand Lake.  85 miles / 3939′ elevation gain.
Major climbs: Ute Pass.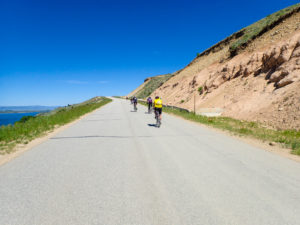 I woke up feeling good and ready to take on the day.  It was 28 degrees outside so I took some newspapers from the recycle bin and put them between my jersey and base layer adding instant insulation and a wind barrier.  Rob and Allison stayed behind to let the outside temperature warm up.  The day started on a winding bike path down to Frisco. Once we were on a road, we hammered 30 miles to the base of Ute Pass.  Steve pulled ahead on the climb but we reconnected at the summit aid station.
The descent was fun but not memorable until the asphalt gave way to a dirt road. While bumpy at times, it was a welcomed change. This was high country desert – no trees and lots of brush.  It was beautiful but not in the way I normally think of Colorado.  After maybe 15 miles, we found asphalt again and found some groups to ride with in fast pace lines.   At one point we went through Byers Canyon that I vividly remembered from Day 2 of my first Ride the Rockies in 1993.  The canyon is narrow with a river running along the base.  The canyon edges were jagged, steep, with hues of red, orange and brown.  It was a treat to take in.
After the canyon, Steve and I powered to Grand Lake. For this 85-mile day, we averaged 16.5 MPH. My cold was gone, the knee felt good, and instead of getting increasingly tired, I was now feeling stronger every day.
Day 5 – Grand Lake to Estes Park.  49 miles / 4,636 elevation gain.  Major Climbs: Trail Ridge Road.
When I was six years old, my mom took me on my first roller coaster. The trip up was sheer terror for me. I kept saying, "We're gonna die!" over and over.  But then came the downhill. We were probably not a quarter way down when I became an adrenalin junkie.  I wanted to do it again and again.  Fast forward nineteen years. It was my first Ride the Rockies.  I was still new to cycling and was doing this because my brother asked and it seemed like a good challenge.  The second day went from Estes Park to Granby via Trail Ridge Road. I suffered on the way up, but the downhill was so exhilarating and that this was the day I truly fell in love with cycling. It was June 21, 1993.
Today was my first time back to Trail Ridge Road – twenty three years later – back to same road that made me fall in love with this awesome sport.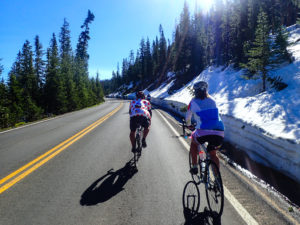 This was another cold start but one degree warmer than yesterday – 29 degrees.  We had a flat-ish roll out for a good .3 of a mile before we started our ascent of the highest point-to-point road in North America – Trail Ridge Road. The climb started okay – not bad but not great either. At Aid Station 1, I got some pancakes and doused them with liquid energy (a.k.a. syrup). I felt like I was on fire – for every person who passed me, I maybe passed 30-40 people.  At some point after we reached the tree line, we had an incredible tailwind so I sat up as straight as possible to maximize my surface area for the wind to push me up.  But then we rounded the corner.  The road got steeper and that tailwind turned into a punishing headwind (see photo below).  Every crank of the pedal was a victory.  I slogged up to the first summit (Trail Ridge Road has a double summit) to reach the final aid station.  The freezing cold coupled with an intense wind meant that people weren't just hanging around – they fueled up, used the porta potty and quickly left.
We thought that this was the hard part but nature had something else in store for us.  The wind gusts were upward to 50-60 MPH blowing us all around but mostly toward oncoming traffic – which was a GOOD thing – since the alternative was a 1,000 foot drop with no guardrail. Everyone was trying to find a technique to work with the wind.  Some rode their bikes with an extreme lean, some peddled while breaking at the same time, I mashed one peddle as hard as I could (in areas where I could coast) to lower my center of gravity. After the second summit the wind died down to a mere 20 MPH so I started my descent.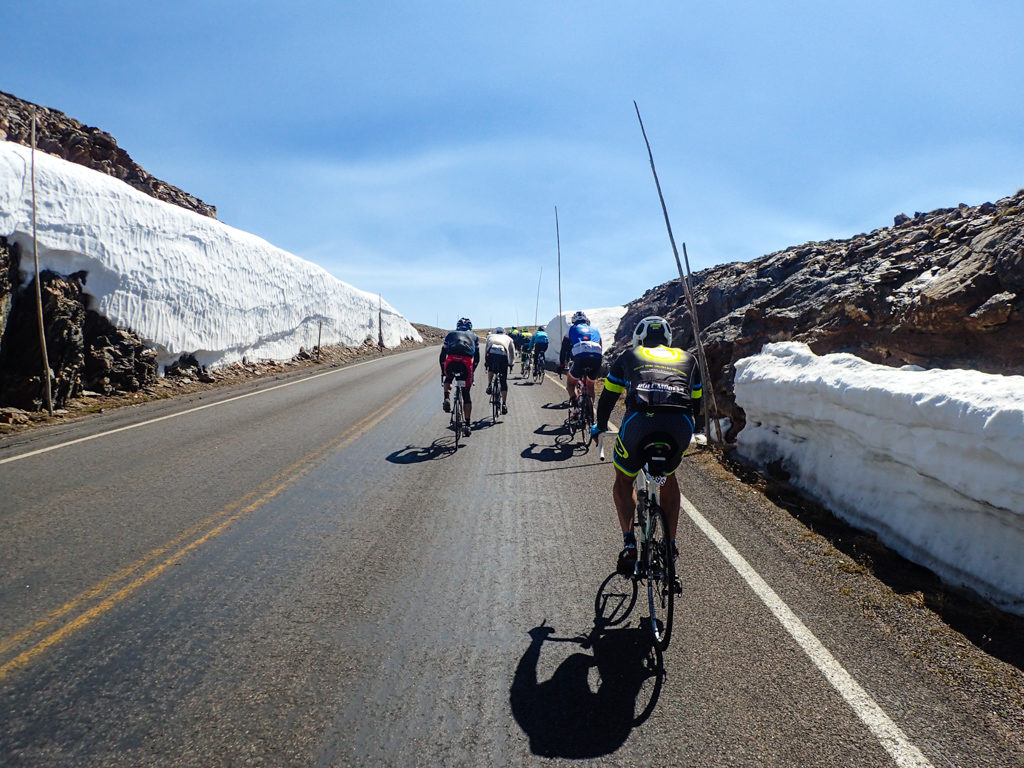 This is my happy place.  According to my GoPro video, I passed over 50 riders and nobody passed me.  I was blowing past cyclists and cars alike, hitting turns at full speed (45+ MPH).  I was always in control and loving every millisecond.  There is nothing that makes me feel more alive and in-the-present.
As I stopped to strip off my winter gear, a driver asked what we were all doing and I explained Ride the Rockies – and then I said, "Um, can I ask a favor?"  After he said yes, I pulled out the newspaper I had been using for insulation and asked if he could recycle it.  Last time he will ask questions of a cyclist. 🙂
I continued into Estes Park to find that I was one of the first 100 to arrive.
Note that in the below YouTube video, from the top to the bottom, I passed over 50 cyclists and several cars and not one passed me (when things flattened out, cars passed me, but still not bikes).  When I say that I felt like I was on fire, this is what I mean.
Day 6 – Estes Park to Fort Collins.  51 miles / 2,291 elevation gain.
After such an anemic start and feeling so strong now, I wanted to rock this final segment.  I had so much energy and no reason to conserve what I had left so I went all out. We left together with the understanding that we were all going to do our best (even if this means we got separated).
I started a long pull of the team with Rob, Steve, and Allison following. Soon into the ride, I was averaging 25-30 mph (it helped that it was downhill).  Then a rider named Erick blew past me so I jumped on his wheel at which point we lost Rob and Allison so it was Steve and me on Erick's wheel.  He was flying going 30-40 MPH through Big Thompson Canyon.  And while we were going much faster, my power meter showed that I was only using about half the power of when I was pulling due to Eric's slip stream.
We blew past aid station 1 as we were only on our bikes for maybe 30 minutes. After a quick stop at Aid Station 2, we had a good ride that was harder but a little bit more of a relaxed pace.  Erick took off in front of us so it was back to Steve and me. At some point we came to the Hogbacks – a series of incredibly steep hills that I suspect the RTR staff added to the itinerary to break the spirits of people who were barely hanging on (just kidding).  The inclines were well over 10% in some places and several people were walking their bikes.
After the last hill, it was a ride through some of Fort Collins neighborhoods to the finish line.  My goal to crush the final day was successful- I averaged 19 MPH for the day, and they were still setting things up when we arrived.
Epilogue: 
After doing seven Ride the Rockies, you would think I would get used to this.  But every year, it hits me like a new experience.  The indescribable beauty of the Rocky Mountains intoxicates me.  The sounds and smells of the wilderness ignites all the senses.  In a car you feel like a visitor to nature, but on a bike you feel part of nature – you feel a kinship with your surroundings and it makes you think of your place in the universe differently.  All of this amps up your emotions and makes you feel alive in a way that I have never felt elsewhere.
Moreover, after my third year in a row, you would think I would get used to this, but five years ago I was so heavy that I struggled to bend over to tie my shoes. To be an endurance athlete means so much more when you climb out of such a deep hole.  I don't take my health for granted and feel so lucky to have had my life shaken up so I could get my priorities straight.
Finally, I am so glad I ignored my instincts and rode the Copper Triangle on the loop day.  This was the turnaround point where I found my climbing legs and started to get stronger.  This reinforced that no matter what, just keep going and trust at some point, things will turn around.
Endurance sports are about perseverance at all times and never giving up. The Copper Triangle reinforced that many worthwhile things are wrapped in suffering.  When you power through, it strengthens your resolve, fortitude, and resilience.  In many ways, life is an endurance sport and the key to joy and success is to keep on pedaling.
Credits:
I am so thankful to so many people who made this ride possible or fun or worthwhile. Here is a list of some of the people I am grateful for:
Christina.  Christina supports me in so many ways.  Especially, when I go on long training rides on the weekend, she has extended Christopher duty which is not easy.  I am SO appreciative.  I love you Christina!
Team WBR and Claire Geiger.  Thanks to our team for going above and beyond, raising money for over 80 new bicycles!  Thanks to for your friendships and companionship.  Thanks especially to Steve for doing this after a 20-year break – it was fun to catch up.  And finally, thanks to Claire Geiger of World Bicycle Relief for always being there to help us!
David Kemp.  David and I met on Prodigy trying to find a ride partner before the web was invented.  He is an incredible coach and always has the right advice.  His advice on how to tape my knee for the ride I think played a large part in my ability to do well.
Rachel Macgillivray.  Rachel is my PT who worked with me to strengthen different muscles in my legs to ensure my knees were in good shape for the ride.  Hopefully I can talk you into doing the ride one year!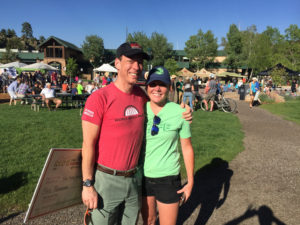 RTR Staff, especially Renee Wheelock.  This was a great ride, and Renee has been so awesome to allow World Bicycle Relief to have a team for the ride.  THANK YOU!
Ann and Larry, and Steve and Kathy – thanks so much for your warm hospitality before and after the ride.
Sue Miller – thanks so much for helping me find volunteers!  I am so deeply indebted to you for your help!
Robyn Betts.  It is always fun to leave a ride with a new friend, and you are pure awesomeness.  I really hope to see you next year (preferably on Team WBR!).
Finally, thanks to EVERYONE who supported me in my fundraising efforts for World Bicycle Relief.  I am so deeply grateful.  Donors include:
Fr. Ed (Fred) Deimeke
Ken Crognale
David Kemp
Mac and Joyce McQuisten
Carmen MacDougall
Mike Guerrieri
Crystal Chambers
Bryan Vandrovec
Sally Werntz
Dodie Jones
Lee Dzierzanowski
Kara Tershel
Nick Simko
Todd Hart
Tina Reeves
Honey Scott
Mark Delligatti
Kyle Vickers
Susan Harwood
Charles Stokes
Brittany neighborhood
Tray and Betsy Austin
Irene Yam
Cynthia Bastress
Joe and Kristy Burns
Karen and Jeremy Brockmeier
Ricki and Mo Guyant
Ryan and Erin Rowe
Mary Kate Vasquez
Jon and Chris Doering
Linda Christie
Bill Steinhardt
Katy and Ken Baranowski
Nicholas Anderson
Brittany Blough
Marlene and Mac Carhart