Prologue:
Ride the Rockies is a high endurance bicycle tour that pushes most riders to their limits, exposing them to extremes in distance, temperature, and mountain climbs.  In the end, riders are filled with a profound sense of accomplishment and are left with an experience they will never forget,  Sponsored by the Denver Post Foundation, the rides usually ranges between 400-500 miles, over 6-7 days, climbing some of Colorado's most challenging mountain passes. Riders this year ranged from age 9-90, representing all 50 states and 13 countries. They hold a lottery to enter and cap the ride at 2,000 cyclists.
Last year this ride was all about me and my journey back to health (after losing 60 lbs) but this year I wanted to do something bigger than me that would have a meaningful impact in the lives of others. So I decided to create a team to ride in support of World Bicycle Relief (WBR) that helps empower people in Africa by giving them bicycles. In countries like ours where most people own cars or have access to good public transportation, the concept of distance doesn't really enter our consciousness. But in developing countries, distance can often mean the difference between living a life of survival and a life of purpose. When you give someone a bicycle, you change their life, their family, and their village. Where you and I may view bikes in the context of recreation, they are nothing less than engines for economic and cultural empowerment in developing countries.

Bicycle change lives. They allow students to go to school for the first time and have control over their destinies (70% of WBR bikes to students go to girls!). They allow healthcare workers to go from visiting 3-4 people a day to 12-14. They allow entrepreneurs to bring their goods/produce to market and raise their families out of poverty.
The Denver Post was awesome enough to allow me to create a team to raise money for WBR. Riding for the team was Rob Ison, a colleague from Gartner, Christopher Butcher, and Louis Kluger. Collectively we raised $8,673, enough to buy a whopping 59 bikes. Through the donations of some truly amazing people, we are changing the lives of 59 people, giving them hope and opportunity that they never could have dreamed of.
I don't talk about the team much in this blog post so wanted to add some context so it didn't seem confusing. Christopher and Louis took the hotel route that added two hours to their days to travel to/from. They are also late risers (i.e. they didn't want to rise at 5:30 with Rob and me). Since Rob and I did "indoor camping" (sleeping on a gym floor), we were on the same schedule and therefore spent far more time together.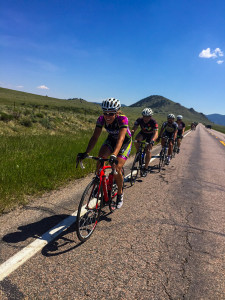 In this blog post, I frequently mention pace lines (a.k.a. "Drafting"). For those unfamiliar, cyclists, like migrating geese, often travel in packs to conserve energy. Leaving less than a wheel length between each bike, they create a slipstream that can reduce the amount of energy exerted by up to a whopping 40%. The person in the front is the one who works the hardest and is said to be "pulling" the rest (even though it is no harder than if they were riding without drafters). After a certain distance or amount of time, the lead cyclist pulls out to the side to let the line pass and s/he jumps on the end – the best spot in a pace line. As a result, cyclists are able to cover long distances at incredible speeds.
---
Day 1, June 14, 2015
So this was it – Day 1 of Ride the Rockies. Team World Bicycle Relief was comprised of Christopher, Louis, Rob, and me. Louis was arriving later that day so Christopher, Rob, and I met at the opening ceremony and then headed out for the day's ride.
While Ride the Rockies is a staged ride where we go from town to town to town, today was a loop that started and ended in Grand Junction. The route took us through Colorado National Monument which may be one of the top 10 most beautiful bicycle rides in the world (it is close-ish to Moab UT to give you an idea). Rising over 2,000 feet above the Grand Valley of the Colorado River, the road is carved out of chiseled red cliffs overlooking a landscape of pure beauty. It looked like a mix of Radiator Springs (from the movie Cars) and where Wile E Coyote chased the Road Runner (I considered a rocket bike at the Acme store but then thought better of it). On the plateau are pinyon and juniper forests giving life and color to this rock fortress. As the path ribboned along the edges of the majestic canyon, each turn reviled something even more stunning than before. I kept saying "Wow" over and over – just amazed at what I was seeing. As the sun continued to rise, the cliffs and rocks were painted with sunlight bringing out brilliant orange and red hues.
The ride started steep and the climb was steady. But with such awe-inspiring beauty, my legs
were the last thing on my mind. Once we reached the top, the rest of the ride at The Monument was pure joy. The competitive side of my tends to notice the ratio of people I pass vs. the people who are passing me, but on this day, I kept stopping to take pictures as hundreds of people flew past me. There would be days for fast riding, but today I just wanted to absorb everything and burn this into my memory. At the end of The Monument we were rewarded with a fabulous down-hill that took us through tunnels blasted through the rock and all sorts of fun turns.
At the park's exit, we had ridden 30 of 47 miles. The final ride was uphill with a headwind, and was not particularly inspiring.
Aid Station 3 (31 miles in) was in Fruita and they were handing out towels that said "WTF" and under it, "Welcome To Fruita". The DJ at the Aid Station was playing John Denver's Rocky Mountain High and I just started belting it out – seemed like the thing to do. A group of Canadian women held a water bottle to my face like a microphone and during the refrain, they jumped and then more people jumped in. Glad I could spread the Colorado love.
---
Day 2, June 15
If Day 1 seemed like a paradise, then day 2 was more like a hell. Sometimes hellish days are the result of specific circumstances like bad weather, mechanical issues or physical maladies. And sometimes they are hellish just because the route is an uninspiring slog that sucks the life out of you. This is Grand Mesa.
The climb out of Grand Junction up Grand Mesa is somewhat ugly and demoralizing. While in only looks like a 2% grade, it actually fluctuates between 5-7%. You feel like you should be going faster, you give it your all, but you barely move. Most climbs have small respites, whether they be a small dip or saddle to rest your burning legs. But Grand Mess is 20 miles of straight up without any rest. It provides no relief or shade from the sun, exposing you to heat that drains you physically and mentally. It is unrelenting, uncompromising, and absolutely dedicated to breaking your spirit.
Usually the payoff of a hard climb is a spirited downhill where you hit the switchbacks like a skier weaving between gates. But Grand Mesa is known to be greedy and selfish and can steal cyclists this satisfaction that they earned. At the start, we were met with an updraft so strong that if you didn't pedal on the downhill, you would fall over. This should be against the law. But eventually, the wind gave way and we had a prolonged downhill that led to the next aid station.
At the bottom of Grand Mess at Aid Station 7, I had cycled 79 miles and felt done but there were still 22 miles left. Leaving the aid station was another unwelcomed climb. But after that, I started to find strength in my legs that seemed to come from nowhere. I was generating enormous power and without the aid of a pace line I was gliding across the countryside. The fluid motion of my pedals created a great spin (~105 RPM), and my legs worked like a perfect machine, almost independent of the rest of my body. As I continued on, riders started to thin and I realized that in spite of the day's struggles, I did comparatively well.
I entered the small town of Hotchkiss and there was one final hill to the school where we were staying. I find that short steep climbs are easier climbing out of the saddle so I sprinted up the hill. Locals lined the route ringing cowbells and cheering me on.
After the day was over, I started to take a mental inventory of the most painful things I have ever encountered. Was it the time I got a giant splinter on bottom of my foot and the doctor had to give me a few injections through the bottom of my foot to get it out? Or maybe it was the time I cracked a rib on my mountain bike. With these painful experiences front of mind, I wondered which one I disliked most, and Grand Mesa rose to the top. If forced to pick to relive one of those experiences, I would chose just about anything before I face that bitch of a mountain again.
I added an extra few miles to this 96-mile day to make it over 100. Looking back, maybe those extra miles were ill-spent compared to what I faced today.
---
Day 3, June 16
It was a dark and stormy morning. We headed out at 6:30 to dark skies, a persistent rain, thunder, and a mean-spirited headwind that stayed with us for our first 5,000 feet of climbing (about 3 hours). Within the first hour, SAG wagons were passing us with maybe 8 bikes affixed to the top, shuttling riders to the finish line. The experience of Grand Mesa coupled with today's rain, wind, and climbing clearly broke the spirits of many riders (SAG wagons – or Support And Gear are cars that pick up riders who can't finish for the day).
When the day stated, our legs felt like jelly after yesterday's tortuous 100 miles and the climb up Grand Mesa. Every stroke of the pedals required a certain level of grit just to keep going. The pace lines were all going slowly as they were battling their way up this mountain, forcing their will against that of nature. On the way up, after these two difficult days, my perspective started to change about this year's tour – I started to tell myself, "Only four more days. Only four more days." Not really the best way to contextualize your "vacation".
But then something happened that marks the turning point of this year's tour. As we reached the summit, the skies cleared and the jagged edges of the Black Canyon were blanketed with beautiful sunlight. Providing a stark contrast to Colorado National Monument's chiseled angular cliffs, the Black Canyon looks ancient in comparison, highly weathered and battered, providing texture and character. This canyon dates back to the Precambrian where it was formed 1.7 billion years ago as two volcanic islands collided. The result is a beautiful chaos of rock formations, undulating jagged walls and vegetation that growing in every crevice.
Unlike the Grand Canyon, this was enormous yet accessible, maybe even intimate, evoking an emotional response. It pulls you in and absorbs you. There is something humbling to witness such stark beauty that existed long before men and women walked the Earth, and will be enjoyed by others long after all of our names have been forgotten. It's hard not to ponder your humanity and your place in the universe when faced with something so vast and grand.
I met a rider named Cameron who had such an inspirational story. He was an electrical engineer from the Twin Cities who had lost a considerable amount of weight and was doing this for the second year in his efforts to improve himself. At the next aid station, we caught up with Christopher and Louis, and we all left for the remaining 28 miles.
Within a mile or two of getting started, our 4-person pace line had picked up several tag-alongs. We were going at a good pace when my rain jacket fell out and got caught in my gears. As I was near the back, nobody but Christopher in our group noticed. He stopped and waited for me to untangle my jacket from the gears and then he started an epic pull as we were racing down the road. At some point, we caught up to the rest of the group and I found my legs – I pulled for about 5 miles going into the last station, and then most of the final 10 miles to Gunnison. I was on fire and we were going over 20 MPH.
This second half breathed life back into my spirit, gave me more confidence, and made me look forward to the next day. Grand Mesa and today's climb were far behind me. And the following day was a merciful 27 miles.
---
Day 4, June 16
Today was a rest day with only 27 miles. Team World Bicycle Relief rode together taking it slow. It was a constant incline that totaled 1,300 feet, but after the past few days, it seemed flat. Although we could have hammered, we took it slowly as our bodies needed rest, especially considering tomorrow's century.
We rode into Crested Butte which is a beautiful resort town. They closed the main downtown street, had a band, beer garden, and lots of fun shops to visit. Rob and I grabbed a pizza and talked about the ride. At this point, the positives and negatives were fairly equally balanced. In spite of this being a rest day, we were tired and exhausted. Walking up stairs taxed our muscles and had I not done this ride five times before, I would be wondering how I would finish. But each day is a new day and you somehow find the strength to press on.
---
June 17, Day 5
From the time the route was announced, I was not looking forward to this day. The facts that it was 104 miles or that were climbing Colorado's second highest mountain pass (12,126 feet) did not bother me. What gave me consternation was that the final 11 miles of Cottonwood Pass was on a gravel and dirt road. People said the dirt road was manageable but with a stiff road bike, I was expecting to feel like I came out of giant paint shaker with every bone and joint rattled.
In retrospect, it was my most favorite day of the ride. Wow!
Rob and I started the day early and largely backtracked the route we did yesterday, traveling briskly for 17 miles until Aid Station 1 in Almont. At this point, we were cycling a 2-3% grade until 23 miles. Then, after Aid Station 3, the climb started. The asphalt gave way to a dirt road that lasted 11 miles to the top. It was mostly hard packed dirt with enough divots to keep your constant attention, but it was an unusually refreshing change of pace. You really had to watch where you were steering but it offered something different and broke the monotony.
One thing I love about riding a bicycle is that you not only feel close to nature, but you feel part of nature. On a bike, you hear all sorts of wonderful sounds from the trickle of streams ushering down the winter's melted snow, the rustle of leaves as chipmunks scurry about, and the beautiful song of birds in the trees above. I never realized how climbing a dirt road carved out of a forest with trees immediately to your left and right of would make me feel even closer to nature. It stimulates all your senses as you are immersed in this lush forest.
Best of all, I finally found my climbing legs. I was spinning between 80-100 RPM the whole way and my speed fluctuated between 9-12 MPH – an especially good speed for going up a 6.5% grade, on dirt, at high elevation.
As we kept climbing, we were surrounded by large patches of snow and at some point, we hit the tree line the landscape dramatically changed as we climbed the bald mountaintop.
After a series of switchbacks, we reached the aid station on the summit. Because we were above the tree line, we had an unobstructed view in all directions seeing snow-capped mountains off in the distance. It was cool but not cold, the air was crisp, and everyone seemed upbeat. A DJ was playing fun music and several food vendors were offering a variety of options. I wolfed down a fajita and a Mountain Dew, sitting in a comfortable chair, taking it all in.
After my stay atop the pass, I started my dissent. It was technical at first with acute switchbacks that tested even the most skilled cyclist.  I don't especially love climbing, but it is an easy price to pay for a great downhill. When going into a turn, you need to assess the angle and find your line. You shift all your weight to your outside pedal to both keep a low center of gravity and allow the bike to lean while you remain perpendicular to the ground. At the same time, you are watching for other riders, cars, etc., and adjusting as necessary. When done right, it almost feels like a sling-shot and each turn is a thrill.
Cyclists are either climbers or descenders, but are rarely good at both. I am a descender and few people pass me and when they do, they are usually heavier and have gravity on their side. This time I was passed by a slender woman which is a rarity but is amazing when it happens. She was fantastic and I followed her down. At one point, there was a long straight-away and I hit 55 MPH (See below video.  At minute 2:42 of 3:41 you will see me go 55 MPH).
There was a 26 degree differential from the top of the mountain to the bottom so after the terrain leveled out at Buena Vista, most of us stopped to strip off some layers. We then had an eight miles of a steady climb in substantial heat, which nobody seemed to appreciate. After the last aid station, it was exactly 20 miles, mostly downhill, to Salida. I jumped on someone's rear wheel and we powered in averaging nearly 30 MPH.
At the end of the day I averaged over 16 MPH, a respectable speed for a century if traveling on flat ground, an especially good time when climbing Colorado's second highest pass.
That evening, Team World Bicycle Relief had dinner with retired pro cyclist Ron Kiefel, his sister and nephew who were all doing the ride. He is a solid good guy and we had a great time.
---
Day 6, June 18
Today was 66 miles to Cañon City. Climbing out of Salida I was passed by a racing team sponsored by Naked foods. My legs were tired from yesterday but I jumped on the back. It was at first a little faster than I was ready for, but the payoff was well worth it.
Pace lines have etiquette and one rule is that if you join an established group's line (like a racing team), you don't join their rotation. When the lead has finished their pull and peels off to jump on the back, you create a space and let them in behind the last team member. Anyway, after talking with them at Aid Station 1, they invited me into their group and I rode with them the rest of the day. For the first 47 miles, we averaged 26 MPH and it was a pure thrill. Going this fast with such skilled cyclists requires full attention so I didn't take as many pictures – but part of a ride like this is just the exhilaration of a going fast for an entire day.
We rode down Route 50 through a beautiful canyon along the raging Arkansas River. The water was so overwhelmingly powerful that it made me want to pedal harder to somehow keep pace.  In the group was a father and son – the son, Cadin, was only 11 but was incredible. At some point, another line passed us going 35+ MPH and Cadin attacked, out of the saddle, to join the group and the rest of us joined him in the attack.  Even in the slipstream of this group, my muscles were screaming – thank goodness it was only about five miles to the next aid station.
All good things must come to an end, and so did this downhill joy ride. We hit the turn off to start our ascent up to Royal Gorge – which, up until 2001, had the world's tallest bridge. Towering 1,250 feet above the Arkansas River, we had eight miles to climb to the top. Like all climbs, it started gradually for 5 miles but we quickly hit "the wall" where we cycled two miles at grades between 8-12%. Perhaps half the people were walking their bikes up the road. I needed to dismount for a minute to work out a cramp in my calf but got back on and reached the top.
The Naked team and I eventually left for the final aid station for the ride  into Cañon City. The dissent was fun and ended back on Route 50 – the road we were riding since we left Salida. At one point, we hit a downhill and without pedaling, I briskly passed everyone on the team (I hit 47 MPH). I had wondered how far behind they were and was planning on pedaling slowly to let them catch up but they had caught my slipstream and were right on my tail. They really appreciated the ride and I had never ridden with a group that could do that!
A few miles down we turned off onto Skyline Drive. What an interesting but fun ride. It is a hike/bike trail atop a narrow but small mountain 500 feet up where you can see Route 50 far below on your right and Cañon City far below to your right. The dissent was a little nerve-racking as I had to ride my breaks all the way down. As you continually break, it creates friction and creates incredibly hot rims. In the rims are your tubes and if that rubber gets too hot, it can pop. Anyway, we made it back down to the bottom and then it was only about a mile into town. When we arrived, there were less than 100 bikes in the bike security area. My average dropped to 19.8 MPH for the day – but that is still an awesome time for me.
The Naked team were pure awesomeness – both incredible athletes as well as friendly and warm people. And I thought it was wonderful that the leaders were two women giving all the men a run for their money. When I did the ride in the 90s, there weren't many women and even fewer women who were strong riders. On this tour, many (most?) women could hold their own with their men counterparts.
---

RTR Day 7. 47 miles, 4,281 feet of climbing.
Day 7, June 20
On Day 2 and the beginning of Day 3, I was counting the days until the ride was over. Yet, as I woke up today, I was sad that it was over wishing we had an extra few days. People were concerned about the climb up Hardscrabble Pass but I always seem to find some reserve power on the last day and this was no exception.
I met up with the Naked ladies and their friends and we headed out to face the final day together. The first 10 miles were flat and then it was a steady uphill (maybe 2-3%) but we kept a good pace. At one point we caught up with Ron Kiefel and his sister and we rode together for several miles to the second aid station at mile 20. After the aid station, the climb up Hardscrabble Pass started in earnest and the team went ahead of me (when it comes to climbing, I am not in their league). I climbed with one of the team member's significant others and we had a great conversation on the way up. The climb was beautiful but I was getting concerned as the grade kept getting steeper, the temperature kept rising (now in the 80s), and I was running low on fluids. I looked at my odometer and we had six miles to go – which can be an hour of riding going up a steep mountain. But the grade started to level out and as we crested the summit, we could see the Sangre de Cristo Mountains in the distance. This beautiful site of snow-covered mountains was a wonderful reward for a difficult climb.
I met up with the rest of the team at the third and final aid station located on the summit and we then started the last leg into the small town of Westcliffe. Like day 6, we  were operating as a single unit, flying down the hill like a runaway train, each rider keeping a close distance to next as we wove around the countryside into Westcliffe.
A few miles out of town, some farmer made a giant bike sculpture using two huge, round bales of hay as tires. As we entered the town, the residents decorated the route in wonderfully creative ways. One property had a tall wooden fence with multiple bikes painted in bright primary colors hanging off the side. There were bikes up on telephone poles, roofs, and everywhere you could imagine to make it special for us.
As we entered the town riding down Main Street, residents were outside in their yards with cowbells cheering us on as if we were racers in the Tour de France. As we got closer to the finish line, there were throngs of people lining the route, all with special t-shirts, clapping, cheering, and ringing hundreds of cowbells. All this outpouring of love and support from perfect strangers was a bit overwhelming and it was hard not to be a little emotional. It was like a hero's welcome and the energies of the riders and the townspeople fed off each other. And these absolutely awesome people kept the same level of enthusiasm, baking in the sun for hours, as everyone rode in. One resident told me that they wanted to be there for the first riders because they were the fastest, but they wanted to be there for the last riders because they were the ones who struggled the most and needed the encouragement.
I had never heard of Westcliffe before but they have earned a special place in my heart. In past rides we have ended in places like Golden, Boulder, and Colorado Springs. Yet this tiny town (along with their neighbor Silver Cliff) turned out more people and showed more support than cities with much larger populations. While impractical, I wish Ride the Rockies ended in Westcliffe every year from here on out.
As the last riders rode into town, everyone ran over to the finish line to cheer them on. Following them were all the support vehicles, SAG wagons, the two dedicated ambulances, the motorcycle state troopers who protected us the entire ride, etc. As they rode in, all the riders and townspeople lined the street cheering, giving drivers high-fives, and showing their gratitude for the tremendous work these people did to make this such a memorable week.
Christopher, Lewis, Rob, Cameron, Christopher's mom and I stayed around for the closing ceremony and then started the long drive back to Denver.
Epilogue:
This was a great year but most importantly, it feels great that together, the World Bicycle Relief team and our friends were able radically change the lives of 59 people, giving them hope and purpose for perhaps the first times in their lives. We all want to feel like our lives mean something, that we were a positive influence on the world. And to be able to combine my passion for cycling with such a worthy cause feels me with an awesome sense of joy.
At this point, I wanted to recognize the 50 incredible people who helped contribute to my ride this year:
Mac and Joyce McQuesten, David Kemp, Bishop Brucato, Chesley Simpson, Dodie Jones, Ken Corgnale, Irene Yam, Brent Riddle, Shelby Olson, Crystal Chambers, Dom Carhart, Jeff Lucas, Jeremy Swartz, Shannon Weaver, Dave Carroll, Teresa Jackson, Mike Gurrieri, Larry Taguma, Mike & Jenn McGee, Brandy and Ben Grant, Dr. Carol Shapiro, Mark Delligatti, Bryan Vandrovec, Claire Howard, Tom Camerlinck, Jim Somerville, Jim Czaban, Cara Santos Pianesi, Becky Marek, Carter Glass, Kara Tershel, Sally Werntz, Moira Collins, Mike Corso, Eric Klosz, Pete Basiliere, Lee Dzierzanowski, Marlene Carhart, 9 Anonymous Donors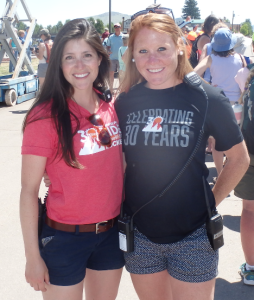 I wanted to thank my team members, Rob Ison, Christopher Butcher, and Lewis Kluger for joining the team and doing their parts to raise money for WBR. If anyone reading this blog feels so inspired and would like to be on next year's team, let me know!  Finally, thank you to Renee Wheelock and Liz Brown (photo to the right) for their help and creating space for Team World Bicycle Relief.  
While I was the person on the bike, this whole thing was a team effort and my beautiful wife Christina deserves an enormous amount of recognition. While parenting is a team sport, training for this ride took nearly every Saturday – time that I usually watch Christopher. She was a constant source of encouragement and took care of things at home so I could focus on training. She even made my energy bars.
I wanted to thank Dave Carroll for giving me his old power meter that allowed this data freak to train much smarter and get significantly better. And as always, I wanted to thank David Kemp for all of his advice and answers to my endless questions. He is a good friend and has infinite patience.
Finally, in Colorado, there were several people who went out of their way to be helpful. Ann Cairns and Larry Bangs put me up as I arrived early to acclimate and were wonderful hosts. In Grand Junction, Barbara and Duane Butcher let me stay at their house providing a bed that was far more comfortable than the gym floor, and provided great meals and conversation. Barbara also helped transport me from Westcliffe to Denver after the ride (with Christopher and Louis). And finally, thanks to Steve and Cathy O'Leary who hosted me after the ride. They are stellar people and it was great to catch up.
This may seem like an Academy Award speech with all the thank yous, but this was important to me and there were so many people who played a part.  To a regular person, this may look like a herculean feat, but it would be impossible without the support and help of so many people and while I have pride in what I accomplished, my overwhelming feeling is that of gratitude because I could not do this on my own. So a big thank you to everyone who played a part.